Football Team To Continue Run For State Title Tonight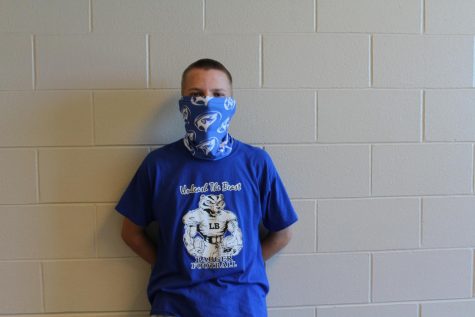 More stories from Adam Arthurs
The football team won their first playoff game on Nov. 15 in Buda when they battled Brazosport and won 42-14. Tonight they will face off against the Gonzales Apaches who have a record of 9-2. The Badgers will have a tough fight on their hands as the Apaches have only had 27 points scored on them twice this season. 
"Our team goal is to win and advance to play another week," quarterback Ace Whitehead said. "I want to do whatever I can do to help my team accomplish that goal."
The team has practiced day in and day out with coaches making plays designed specifically for them. Junior varsity members have also stayed after school to help the varsity as they prepare to play the Apaches.
"I think we are continuing to get better and that is what we need to be doing," head coach Troy Rogers said. 
The Badgers are back-to-back bi-district champions by beating Brazosport 42-14. The stands in Buda were filled with Badger blue as they cheered on their team. The Badgers kept their playoff hopes alive while beating the Exporters while quarterback Ace Whitehead had a good game of 14 out of 23 passes made, 219 yards, 2 touchdowns and no interceptions thrown. 
"Winning the bi-district championship just guarantees us another week to do what we love and it is awesome," Whitehead said.
The quarters played out like this 1st Q: Lampasas 7 Brazosport 0, Q2: Lampasas 21 Brazosport 7, 3Q Lampasas 35 Brazosport 14,4Q: Lampasas 42 Brazosport 14.
"At the end of the day we were able to be 1-0 at the end of the night on both ends," Whitehead said. "That's all that really matters to us." 
The Badgers are also district champions and undefeated in district play. They defeated Fredericksburg on Nov. 8 by a score of 47-35 for the district championship in Fredericksburg. 
"Honestly, winning the district championship was one of the best things I've ever felt," Whitehead said. "We have all worked so hard and to see it pay off in a big way like that was awesome." 
   The quarters for the district championship played out like this 1Q: Lampasas 7 Fredericksburg 14, 2Q: Lampasas 30 Fredericksburg 21, 3Q: Lampasas 40 Fredericksburg 28, 4Q: Lampasas 47 Fredericksburg 35.
  "We never really got caught out of position against the Billies," coach Tanner McLean said. "I think the thing we need to focus on the most is still the fundamentals."
Leave a Comment