UIL Academics, Speech, Debate Teams Bring Home District Championship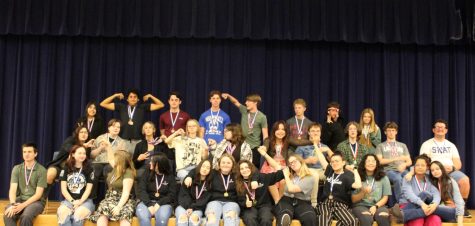 The UIL Academics team competed at their district meet March 24 in Burnet. The Speech & Debate teams competed at their district meet March 25 here. With the combined points from both teams and the One Act Play company, the school brought home the district championship with almost double the points of the second-place school. The regional UIL meet will be April 22 at Stephen F. Austin University in Nacogdoches.
"I'm really looking forward to [Regionals]," UIL Coordinator Judith Ann McGhee said. "I hope we make a big splash and lots of Badgers qualify for State. We have the ability for sure."
The school also received honors for first place speech team and first place journalism team, as well as many second place teams. 
Freshman Morgan Parker competed in headline writing at district and placed first. Her headline writing team swept the event, meaning the first, second, and third placers are all from the same school.
"I knew I was going to do well, but I didn't think I was going to get first and I'm really proud of myself," Parker said. "I think I've found something I'm really good at and I want to continue to try and make myself as good as I can."
Parker said she couldn't have done it without the coaching and guidance of her journalism teacher Kayla Cain.
"Mrs. Cain has taught me everything I know and has become a great influence on me as a writer and a person," Parker said. "My journalism team has been so welcoming to me in my first year competing and given me lots of support along the way and I love them all."
Senior Ciara Carnes competed in One-Act Play, Speech and two Academics events. She placed sixth in Spelling and Vocabulary, and first in her prose speech event, which qualifies her for regional UIL.
"I was really excited [to go to regionals]," Carnes said. "It's my first year doing any of this so getting to go to regionals is really big for me. I really look forward to getting to travel with my friends, and just going to the competition is enough to excite me."
Of the students who competed at a district event, 22 are advancing to Regionals.
"We just need to focus on the events at hand, and do our absolute best," McGhee said. "If we do those things, we'll be winners, no matter what."