Student-Run Campus Salon Opens
Students training for their cosmetology certification started working at an on-campus salon called Badger Cuts and Claws Sept. 15. The salon is open to students and teachers Mondays and Wednesdays from 2:30 p.m. to 5:30 p.m. 
There will be a grand opening at the beginning of next month. Hair, nails, facials and facial waxing services are available. 
Payment can be made in person or online at lisdtx.org on the CTE tab under 'Badger Cuts and Claws.'
"We just decided that this is definitely a trade that people can get into, and it would be nice to be able to finish it and be able to get their license out of it and not have any debt whatsoever and they can get out there and start working," cosmetology instructor Christine Hearn said. "If they decide they don't want to do this, it still gives them the customer service skills and other hands-on type of skills."
The cosmetology students are using this opportunity to practice and prepare for consultations once they graduate.
"By the time they are in Cosmetology Two they are needing to get people actually, so they don't have a mannequin to have to do client consultations with and they can have that human contact back and forth and make sure that they are comfortable when they take their state boards," Hearn said.
Special Education teacher Donna Lutz is already a recurring client.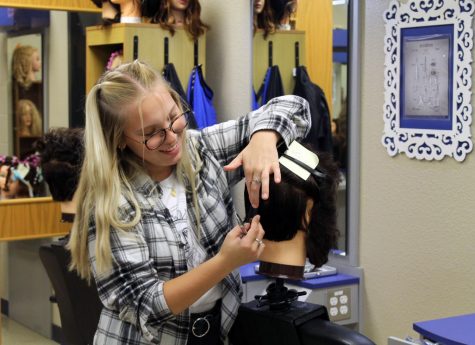 "The atmosphere is exactly like a salon with state of the art equipment," Lutz said. The best part is seeing the students perfect their craft and demonstrating their creativity as they work with the clients. It is convenient, affordable, relaxing and I enjoy seeing the students I've had in the past working in their future careers."
The appointments will take place in the new salon that can hold 25 students and was converted from the culinary arts kitchen. Every appointment will be supervised by Hearn.
" It was so good to see Mrs. Hearn with the students, modelling and giving them feedback," Lutz said. " She does an amazing job!"
Senior Lizzie Bennet is excited to gain experience with real people and hopes to attend esthetician school.
"I love the opportunity to start working and having real life practice," Bennet said. "Mrs. Hearn is the best and most passionate teacher I have ever had. She works so hard."