Students Earn Cosmetology Certifications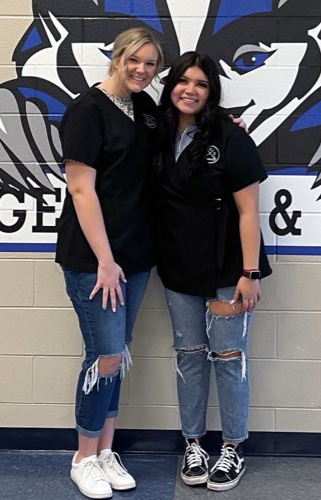 Seniors Megan Caddies and Izabella Guerra were the first two students from Lampasas High School to earn their cosmetology certifications.
In addition to Caddies and Guerra, seniors Keona Cartwright and Lizzie Bennett and juniors Megan Flick and Faith Crow passed their Texas State Board  Exams and are now licensed Cosmetologists.
"I just wanted to have it as a side hustle, but the more I did it and practiced I fell more in love with it," Guerra said. "It's only hard if you don't pay attention to what you are learning. It was more nerve racking than anything."
They started the pathway with Principles of Design and Color Theory sophomore year, Cosmetology 1 their junior year and finished with Cosmetology 2 this year.
"They needed to complete all modules such as Haircutting, Coloring, Chemical Services, Skin and Nail Disorders and Diseases, as well as chemistry, electricity and anatomy," Cosmetology teacher Christine Hearn said.
When they complete these modules, it's converted into hours. At 900 hours they are eligible to take their written state board exam. Upon passing and an accumulation of 100 more hours for a total of 1000 hours, they then must take their practical state board exam.
"On passing this test, they submit their application and fee to the Texas Department of Licensing and Regulation," Hearn said. "They are now licensed Cosmetologists and able to go to work in this industry and/or continue with more schooling for more specialized education in a specific field of Cosmetology such as Esthetics."
The cosmetology students also competed in the District Skills USA competitions and Caddies is among the five students who won ribbons and competed at the State Conference in Corpus Christi the weekend of April 2.
"I am very proud of all the things that these young ladies have accomplished," Hearn said. "I wish them great success and joy, but I will miss them terribly."
At the state-level Skills USA competition, Cartwright received a perfect score and a blue superiority ribbon for her salon design job exhibit. Senior Kylee Boynton received a blue superiority ribbon for nail design. Caddies and Flick received red ribbons for Excellence for day and evening hair.