Jazz Band To Host Tunes 'n' Taters Fundraiser Tomorrow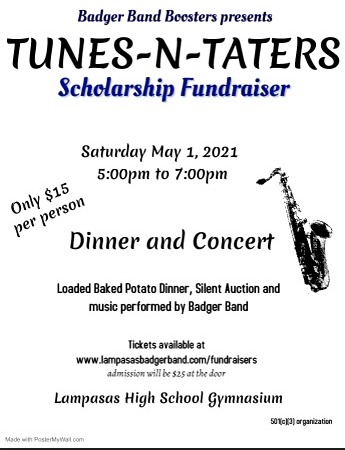 The jazz band will host a "Tunes 'n' Taters" fundraiser to support the band program. Tickets for the fundraiser will be sold until 7:00 p.m. tonight for $15 on the Lampasas Badger Band website and $25 at the door. The fundraiser will be in the small gym at the high school from 5:00 p.m. to 7:00 p.m tomorrow. 
"The jazz band has been working the entire semester to prepare two 45-minute sessions to perform," Band President and jazz band member senior Madelyn Hess said. "The band boosters have also been working on getting the various toppings prepared and donated."
Guests at the fundraiser will be given a baked potato with optional toppings of butter, sour cream, shredded cheese, onions and BBQ sauce, along with their choice of brisket, turkey or pulled pork. Additionally, guests will also be provided with desserts and drinks while they are entertained with live jazz music.
"The jazz band is getting the chance to perform for the public more than we previously were able to," Hess said. "As for the band, it is a fundraiser that helps raise money for senior scholarships that boosters provide every year. This fundraiser not only raises money for senior scholarships, which I applied for, but it also gives me the chance to perform with the jazz band again. We had a competition cancelled due to COVID-19, so this gives us a chance to play even more."
In addition to COVID-19-related setbacks in the season, the program also found difficulty in finding an available location for the fundraiser.
"Our first venue was at the InfinityX2 Wedding Venue, but the owner scheduled a wedding over top of our fundraiser, causing us to relocate to the high school," Hess said. "We then were set up for the cafeteria but had to move again due to the Flames's Spring Showcase, and ended up in the practice gym."
Despite the difficulties faced in trying to perform throughout the season and organize "Tunes 'n' Taters,"  the jazz band will still have another opportunity to perform in front of a live audience. Per jazz band director Jeremy Flint, some songs that will be performed at the event include "Pure Imagination" from Willy Wonka and the Chocolate Factory, "Make Me Smile" by Chicago and "Hit the Bricks" by Gordon Goodwin.
"I'm hoping this helps publicize the jazz band," Hess said. "Most people don't even know we have a jazz band, and we have worked hard and we want people to hear jazz and enjoy it. Hopefully, enough people outside of the band, whether it be family members of band students or other students, join us to learn and hear about us."