Varsity Girls Soccer Aims To Make Playoffs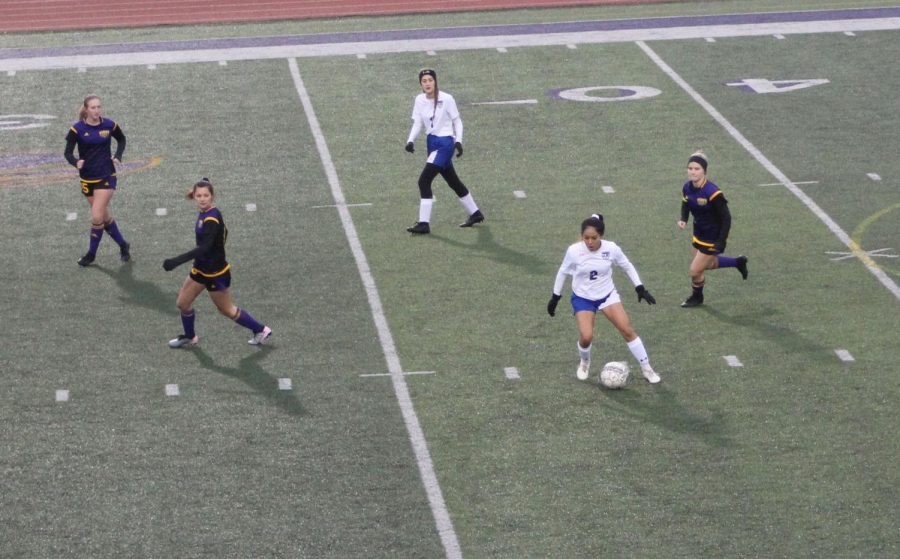 The varsity girls soccer team have played seven district games this year and have won 4 so far. In order to go to playoffs they must win 2 more games. They recently started round 2 where they will play every team again.
Varsity coach Kiff Weimers has been training the girls all year in the varsity athletics class period and started conditioning for the season after Thanksgiving break.
"The training has definitely helped us with our ball control," sophomore Kailey O'Donnell said. "The team runs have helped us a lot with our ability to sprint for long periods of time. It's also helped us bond as a team and be able to work together."
The varsity soccer team has many new faces this year. The returning varsity members are excited for the chance to improve and train new members.
"This season has been exciting because we have new athletes," sophomore varsity returner Jordan Denson said. "Last year we were an offensive team, but this year we are equal on both offense and defense due to some of the newer members. We are faster this year and newer members have a lot of new exciting skills. It's exciting to see everyone grow and work as a team."
Going to playoffs is an accomplishment for every sport. As a freshman, the excitement of playoffs is magnified. Kobe Chandler and Keona Cartwright are two freshman who have earned spots on the varsity team.
"Being a freshman on varsity is definitely scary, especially since I was moved up when we started district games," freshman Keona Cartwright said. "I love every moment of it. These girls have taught me so much, in and out of soccer. They have made my freshman year one to remember!"