Lady Badger Basketball Begins District 2-0
Lady Badger basketball hosted Brownwood last night for the second district game of the season. Both varsity and JV improved their district record to 2-0. Varsity: 55-43, JV: 51-32. They will play at 6:15 p.m. at Stephenville Friday.
Lampasas is ranked 13 in Texas for girls conference 4A basketball.  
"I think our win last night gives us a lot of confidence going into the Stephenville game," girls' head basketball coach Mark Myers said. "The problem last year was that we lost five district games in a row to start the district season off, and it was like climbing out of a hole for the rest of the season. This year the way we started off makes everybody more positive, everyone's got more confidence."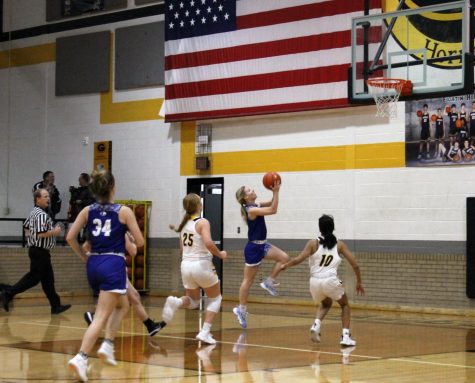 Lady Badgers competed in the first district game of the season against Gatesville Jan 7. Varsity kicked off their district season with a big win 88-23, and JV won 40-5. On Jan. 4, Varsity and freshman teams traveled to Austin to play at St. Dominic Savio Catholic High School where they beat both teams. Varsity: 44-37, freshman: 55-25. JV hosted Lometa and lost 26-36. 
"I think getting to play Savio was almost like a pregame or a scrimmage of Gatesville," freshman Addison Borchardt said. "So our wins over those two schools were able to get us ready for future games like Brownwood." 
After the Gatesville win, Borchardt was one of ten girls nominated for Chicken Express Miss Texas Basketball Player of the Week following her triple-double with 18 points, 10 steals and 10 assists. Junior guard Payton Tatum scored 21 points and junior post Morgan Lovejoy scored 19. 
"I've had teams score over one hundred points before in my career, not here though," Myers said. "That was the most we've scored in my five years of coaching here at Lampasas."
Last year, the girls tied for last in district with Brownwood and had to play a tie-breaker game to go to playoffs. They lost to Graham in the first round. However, Myers and assistant basketball coach Macey Siegert have high hopes for this season. 
"We're playing so well right now and beating Brownwood like that and being able to adjust to each team's offense puts us in a really good position to win on Friday, and then hopefully win district," Siegert said. "Last year we were grasping at strings trying to make playoffs. This year we're talking about getting first or second in district. Just the level of play we've brought this year, I think we're hungry for more after last year."