For 10 days science teacher Dejah Bushong sat in worry as her snake Zith, (formerly known as Berry) was missing.
Bushong realized Zith was missing from her enclosure the morning of Aug. 21. She pulled everything out of cabinets to search every inch of the classroom. 
"I thought she'd be behind the fridge," Bushong said. "It has an open spot with a warm motor. It's small and warm, so I thought that's where she'd go."
After four days of no sign of Zith, Bushong offered a reward of lunch for the person to find Zith from anywhere in town, along with five friends. 
"We emptied every drawer and cabinet in the room and looked under and inside everything that might possibly make a good hiding spot," Bushong said. 
Bushong has had Zith for four years, though the ball python is 19 years old.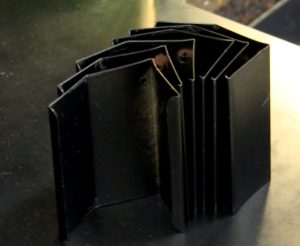 "She's a normal variant ball python, 4′-2″ long, weighing a little over 4 pounds," Bushong said.
Zith got a new enclosure over the summer. Instead of having a sliding/locking mechanism, the new one just lifts off. Zith was able to push it up and climb out.
"Snakes are very muscular, so even with weights on top she was able to lift them," Bushong said. 
Special education science teacher Alison Garner spent time helping Bushong search for Zith.
"I got the janitors to let me in places that I didn't even know existed," Garner said. "Rooms under stairwells, we looked in the surrounding teachers room, and turned Dejah's room upside down every day." 
Garner brought an endoscope so she could check the vents for Zith.
Then, the morning of Aug. 31, Bushong saw Zith's tail sliding under a cabinet with no access door. Bushong had to pop off the panels of the cabinet to get to her.
"She's a very clever little snake, but that morning she just wasn't quick enough," Garner said.
Zith was perfectly fine after her time missing, and everyone was glad to see her return.
"I felt grateful when I found Zith," Bushong said.