During the Homecoming pep rally Sept. 8, senior Dylan Duvall was crowned Homecoming King. 
He was on Hoco Court with five other students: seniors Luke Rogers, Ben Ybarra, Keaton Black, Preston Isom and Levi Rivera.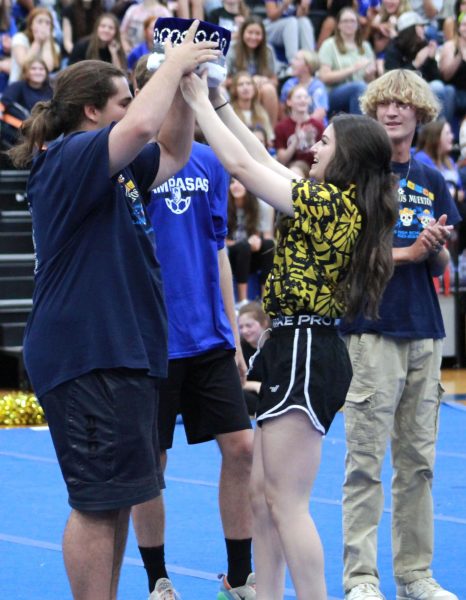 "I thought my boy Ben had it in the bag to be honest," Duvall said. "I didn't expect to win."
Band members were the key to Duvall's crowning.
"I think that it's really awesome that the band was represented in the court but even more awesome that someone that plays such a big role in our band, as our band president, won Homecoming King," band director Chloe Flint said. "
Many of the band students also have Duvall in their jazz band class. 
"I think Dylan is a very polite and distinguished gentleman," junior Bobby Renshaw said. "I'm glad he won."
Despite band students often being on the Homecoming Court, this the first time in over five years that a member has won. 
"Nobody in band has won since I've been here," Flint said. 
Duvall's newfound status has led to him becoming more recognizable. 
"It's kind of weird, being Homecoming King," Duvall said. "I have a lot of kids I don't know come up to me in the hallway to say hi."