Record Breaking Girls' Powerlifter Finishes High School Career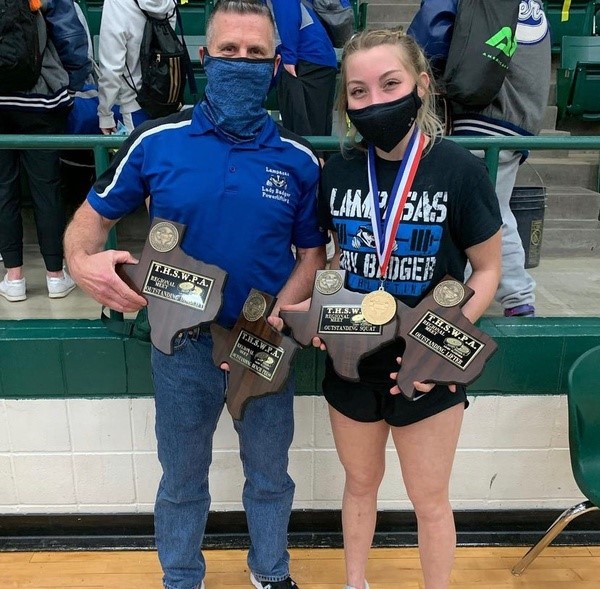 The clanking of metal fills the air, piercing through the grunts and yells as senior Alyssa Ayers and other powerlifters from across Texas push their bodies to the limit, each hoping to win the state championship.
Alyssa (Issa) Ayers finished out her high school powerlifting career March 19 at the state powerlifting meet in Corpus Christi, Texas. 
"I got fourth place at state, with some of the hardest competition I've seen in my four years," Ayers said. "Even though I didn't reach my goal of being a champion, I have still accomplished more in this sport than I thought would be possible."
Ayers picked up powerlifting her freshman year and has run with it ever since.
"I started powerlifting because I watched my brother compete for four years, and I thought it was insane how people could lift so much weight," Ayers said. "I wanted to be the one down there lifting heavy weight and motivating other people to do it too."
"
I really wanted to make history in my career and through all my hard work, I did."
— senior Alyssa Ayers
Assistant principal and girl's powerlifting coach Duane Young has been Ayers' coach since her freshman year, and he competes in the sport himself. 
"I met Alyssa when she came to the open house for incoming freshmen," Young said. "She was in eighth grade. I have been her coach since the first day of freshman year."
Young has helped Ayers throughout all her struggles and she couldn't be more thankful.
"Mr. Young is the only coach I know that still competes in the sport he coaches," Ayers said. "His passion for the sport and to teach younger girls about it has helped me learn so much throughout my four years."
Ayers plans to continue powerlifting at the collegiate level at UTSA in San Antonio, Texas. 
"I also gave Alyssa's name to the UTSA Powerlifting recruiter who happens to be Gabby Martinez, another former LHS powerlifter that I coached," Young said.
Not only has Ayers competed on the high school team, she also went to one USA Powerlifting meet. 
"I have coached her in one USA Powerlifting meet," Young said. "I would have coached her at 2020 USAPL High School Nationals, which she qualified for, but it was canceled due to COVID."
Ayers has won many awards at meets, placing at every single one since she started. 
"All were gold medals except four of them," Ayers said. "I've won ten outstanding lifter awards at invitationals and nine outstanding lift plaques at regionals."
Ayers recalls that her biggest accomplishment is being the strongest pound per pound girl in LHS history.
"I really wanted to make history in my career and through all my hard work, I did," Ayers said.