Basketball Season Ends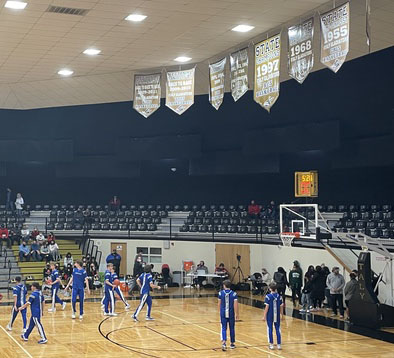 The boys varsity team finished their season with a 45-65 loss to Argyle in the second round of playoffs Feb. 25. 
"There were definitely mixed feelings and a lot of tears," senior Landon Mulcahy said. "I was glad we played good and made it so far."
The team won the title of Bi-District Champs at the game against Graham in Brownwood Feb. 23, and were competing for the Area title. 
"It felt surreal," senior Parker Gibbs said. "I would've never thought four years could go by this fast. It just kind of snuck up on me."
The boys have a record of 19-5, the fifth loss being against Argyle.
"I can't believe it's actually over," senior Jacob Hogeda said.
Coming second in district behind Glenrose, the team had high expectations for the playoffs.  
"I was very upset after the last game but I was also proud of our team and what we had accomplished throughout the season," junior Nate Bordchardt said.
Bonds were definitely made on the hardwood and in the locker rooms between the boys, meaning the goodbyes will be bittersweet.
"Anthony Ortiz and I had the strongest connection," junior Quinn Pace said. "He was my partner for warmups on the court and in the weightroom. We worked through the grind together."
The returning juniors are already working hard for next season and are hoping to make it even further next season.
"I believe that they could have a great season next year," Mulcahy said. "They have a lot of talent, and a lot of people that will work hard."