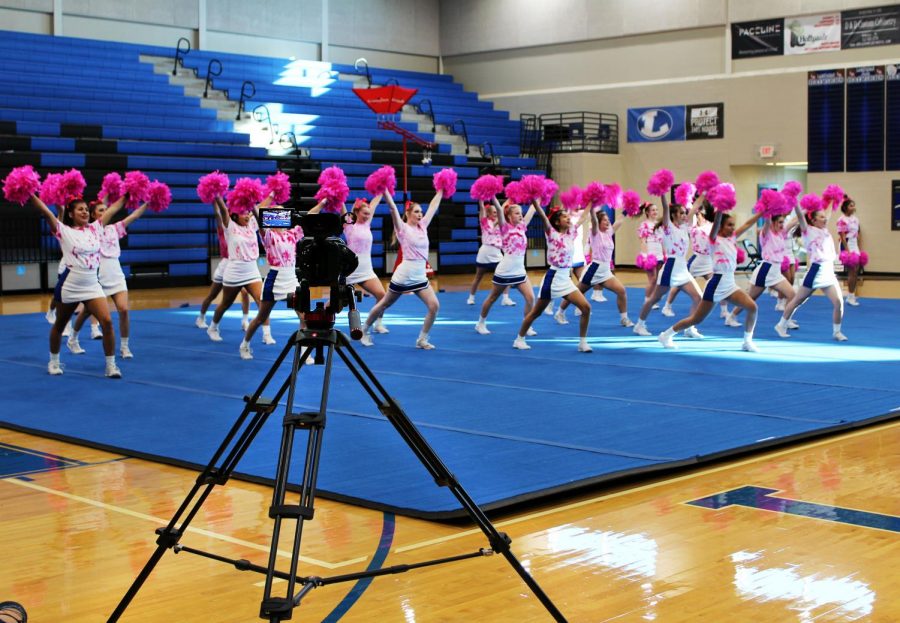 Lights, Camera, Action!
Film Crew Works To Make Virtual Pep Rallies Possible
October 30, 2020
Behind the scenes, the film crew, a team just as important as the ones performing, edits and puts together every aspect of the virtual pep rallies shown for the whole school to see.
Catherine Kuehne's film crew class is in charge of the virtual pep rallies shown during the academic period of a district football game.
"I'm proud of them," Kuehne said. "They have really stepped up and taken this role seriously because they are already doing the LBTV and the UIL film, so I'm really proud of all of them. They have all stepped up and have worked really hard as a team."
Seniors Ethan Rogers and Shea Marshall are the leads in filming and editing the virtual pep rallies.
"The main goal of all of this is to make it seem like the viewers are actually there," Marshall said. "Make it smooth enough so it's not clumpy, but enough to where you can hear it and feel like you're actually there."
Marshall is mainly in charge of the cheerleaders and Flames, and Rogers is in charge of the band introduction, and helps film all aspects of the pep rally.  
"We all know what each other are good at, so it's kind of an unspoken rule on whose job is what when it comes to filming and editing," Rogers said. "There are always strengths and weaknesses."
This is the first year the film crew is filming virtual pep rallies, so they had to find time to work this into their already busy schedule. 
"When the school wants us to do something, we have to get it done," Rogers said. "We scramble to get it done along with LBTV, so we segment time to work on the news and then work on the film systematically."  
When filming the different parts of the pep rally, there are multiple cameras being monitored in order to get multiple shots.
"Not all of the shots are great, not everything is usable, but it's great to have a big pool of things to use," Rogers said. "We use multiple cameras so we can have a cut between the up front view, to the side, and then we can go to a camera going around, but it has to look fluid."
Copyright issues create problems when recording because most performances use music.
"We hit a big copyright issue with this next upcoming pep rally on Friday with the Flames, so we had to upload it to youtube, take out thirteen seconds of music, and add thirteen seconds, or it was blocked because of the music being used in the background," Kuehne said.
  The final virtual pep rally was filmed last Thursday and will be shown for the district game against Canyon Lake on Fri. Oct. 30.