Attendance Clerk Celebrates 80th Birthday
September 11, 2020
The attendance office lights up with joy as everyone celebrates attendance clerk Dick Parker's birthday. Balloons, food and laughter are part of the party to show Parker how much everyone appreciates him.
 Parker turned 80 years old Aug. 27, 2020. He has been in education for 57 years and has no plans to retire.
"I just like being around people," Parker said. "I feel like I am a part of an organization and doing something that is worthwhile and helpful to people."
Parker has worked in Lampasas Independent School District (LISD) for 20 years, his main responsibility being attendance. 
"I started my career as a teacher in Killeen ISD teaching seventh grade language arts classes," Parker said. "From the classroom, I came to Lampasas ISD in 1966 as Director of Curriculum for Lampasas ISD.  I have also worked as an  Assistant Superintendent for Business in Andrews ISD, way out in west Texas as an Assistant Superintendent for Personnel in Copperas Cove and finally as a superintendent in both Copperas Cove and Lampasas ISD."
People in the office said they enjoy working with Parker and he always making everyone laugh. 
"I have worked with Parker about a year and a half," secretary Amanda Yazzie said. "Working with him is a blast. Everyday is something different. He's funny and takes everything with stride."
Through the COVID-19 pandemic Parker continues to work everyday just as he always has in the past. 
"I have no concerns about the pandemic personally," Parker said. " I just try to be careful about staying healthy, getting plenty of exercise and enjoy what I am doing. I also wear my mask whenever needed."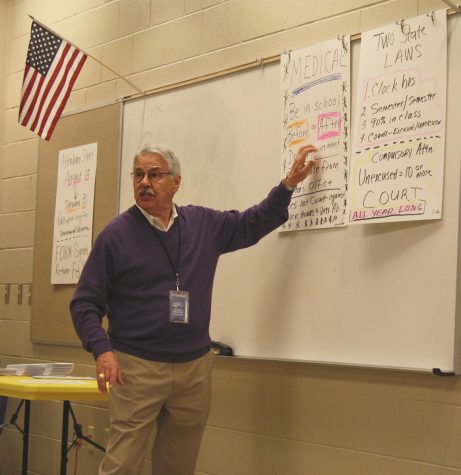 Parker has not made plans to retire because he wants to work as long as he can. 
"I enjoy doing yard work and visiting my two grandchildren who live in Waco," Parker said. "They are twins – Aaron and Allie – and they are active and involved in school activities and I love to go and watch them participate in all their activities.  They are second graders in the Midway ISD and their dad – my son – is a counselor at Midway Middle School."