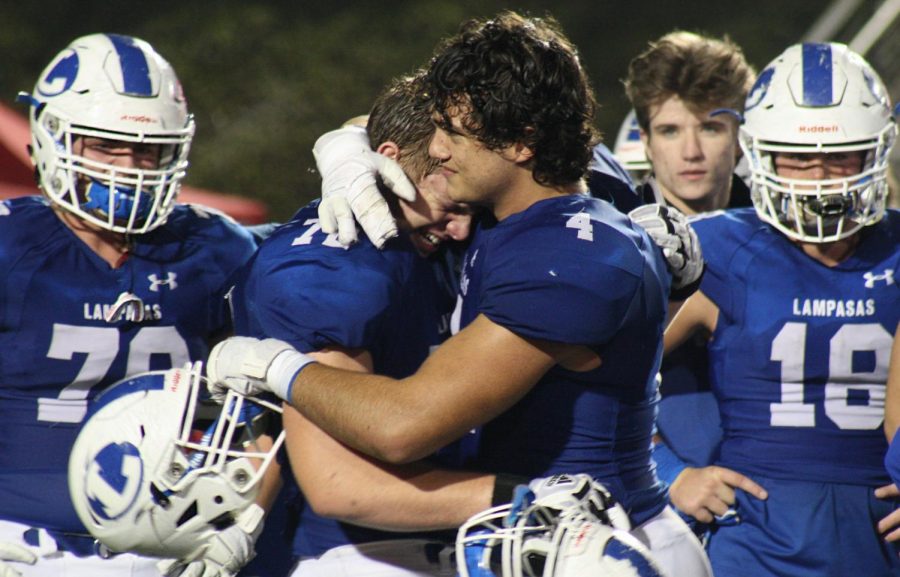 Football Team Rallies But Falls To Carthage In State Semifinal Game
December 17, 2019
The Badger football team lost the game in 13.8 seconds. 
That is all it took for Carthage to take the hopes of a state championship away from Lampasas.
It was within the final 15 seconds of the game that the Carthage Bulldogs pulled away and won Friday night's semifinal game by a narrow score of 49-42.
Class 4A Div. 1 No. 6 Lampasas rallied to tie the score 42-42 with 2:39 remaining in the fourth quarter, but No. 2 Carthage drove 68 yards on the ensuing possession for the go-ahead score. 
Then the Badgers' final effort fell short against them. Lampasas advanced to the Bulldogs' 22-yard line with 2.6 seconds left, but quarterback Ace Whitehead's pass fell incomplete in the end zone to wide receiver Jaylon Porter.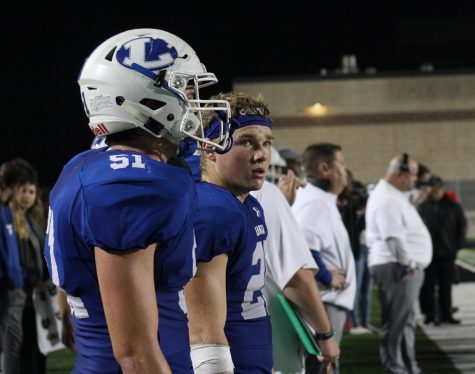 "It took a while last year to get comfortable, but this year me and Ace got closer and the offensive unit as a whole improved which helped me a lot," Porter said. 
  Lampasas had 605 total yards against Carthage in the state semifinal game. Questionable calls were made on both sides. It leads some Lampasas residents to believe that one crucial play before halftime cost the Badgers the game.
"I definitely saw some unfair calls made to the Badgers," Carthage fan Bobby Graves said. "It doesn't look good for us as we want to win fair and clean. I can see why Badger fans are upset. I don't see why the refs didn't call some fouls on us when we clearly had some big ones. The Badgers have definitely earned my respect. Good luck next season.Your team is a big threat. I do not doubt that you guys will be back here again." 
The football team has steadily improved in the past three years since their 2016 (1-9) season. 
"I think I got a lot better, but as a team I thought we got way better and that's what matters most,"  middle linebacker Keagan Richardson said. 
The Badgers this year have proven to be the most successful football team in school history. The team had 13 wins and 2 losses. The two losses have a combined difference of only 8 points.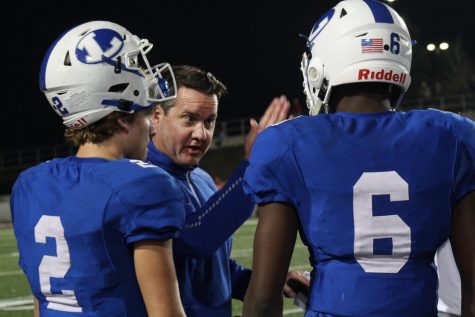 "The Badgers should've won that game," junior Victoria Whitham said. "There were so many missed calls during this game. I am very upset with how the ref called the plays. That was an unfair game."
Whitehead completed 22 of 41 passes for 390 yards and three touchdowns. 
"Ace had a great season last year as well, but I could tell this year his decision making was better and of course he hit the off season and SWAT hard so his body had improved as well," Whitehead's mother Kenna Whitehead said. 
Senior receiver Cameron Everts caught 11 passes for 229 yards and two touchdowns. Porter caught five passes for 104 yards and Brenton Webb had 17 yards.
"Last year I would be selfish and get flags that would hurt the team," wide receiver Brenton Webb said. "This year I tried to control myself better so that the team would benefit."
After a historic season for the Badgers, they proved to 4A they were a dominant force.
 "My favorite win of the season was against Liberty Hill winning 52-10 against them," Porter said.
It was an emotional game for many seniors who are graduating this year. 
"My emotions were high from start to finish," Webb said. "Throughout the game I just felt thankful to be a  part of a team like this one. Even though the outcome was not what I had wanted, I knew although football was over, the bond formed with my brothers stood firm."