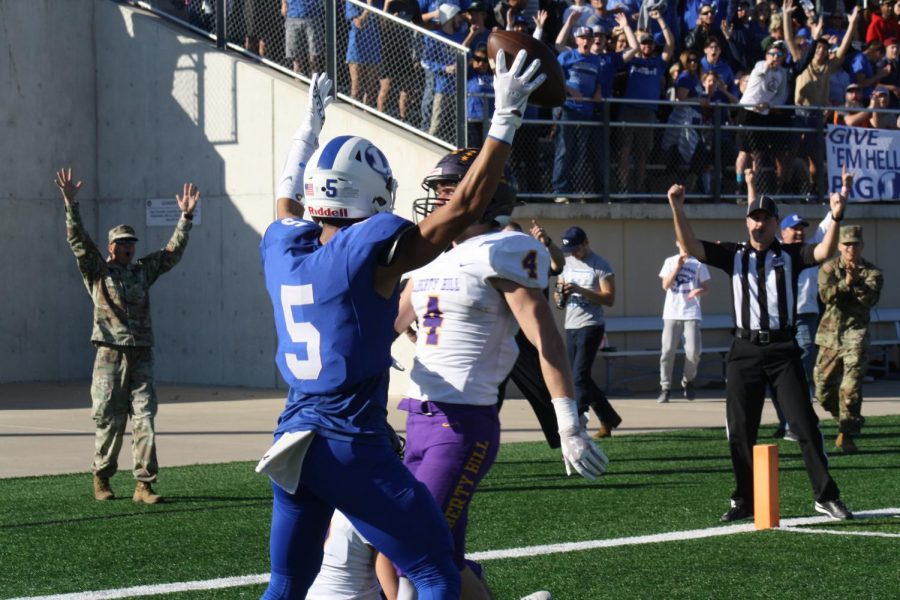 Photo by Chris Ybarra, Editor-In-Chief
Football Team Defeats Liberty Hill Again, Will Play Carthage Bulldogs Tomorrow
December 12, 2019
The football team will face the (14-0) Carthage Bulldogs tomorrow in New Caney. The Bulldogs beat Argyle 44-20 in their regional game. 
"I think if we execute, we will play great," quarterback Ace Whitehead said.  "We just have to do our jobs."
 All tickets are $10 at the gate in New Caney. The Badgers will also have some fan charter buses following them to the game. Both Carthage and Lampasas football teams are statistically nearly the best in the state.
The Badgers defeated the Liberty Hill Panthers for the second time this season in the Regional Championship by a score of 49-34.
 The Badgers knew if they wanted to keep their dream of holding up their own gold trophy in Dallas they would have to beat the panthers again, and they did just that. The game at John Gupton Stadium in Cedar Park was anything but boring. 
"It was an amazing experience," junior Keagan Richardson said. "I'm definitely going to remember it for the rest of my life. I loved seeing the whole town there and I loved fighting with my brothers." 
Senior Jaylon Porter put on a show for the Badger fans, catching 3 touchdown passes from Quarterback Ace Whitehead. The highlight of the game was when he grabbed the football away from a Panther defender in the Badgers endzone making the Badger fans go crazy in the stands.
The team continues to be acing every test thrown at them. Whitehead accounted for a record 7 touchdowns (403 yards) and all of 49 of the teams points in the 49-34 point win.
 Whitehead threw deep for his star receivers and it wound up paying off big time for the Badgers and spelled the end of Liberty Hill's football season. Whitehead now accounts for 72 total touchdowns in the 2019 season (51 Passing touchdowns, 21 Running Touchdowns).
The Badgers have not punched their ticket to the State semifinals since 1986. 
"Everyday we are getting faster," Richardson said. "Everyday we are getting stronger. Don't sleep on Lampasas."