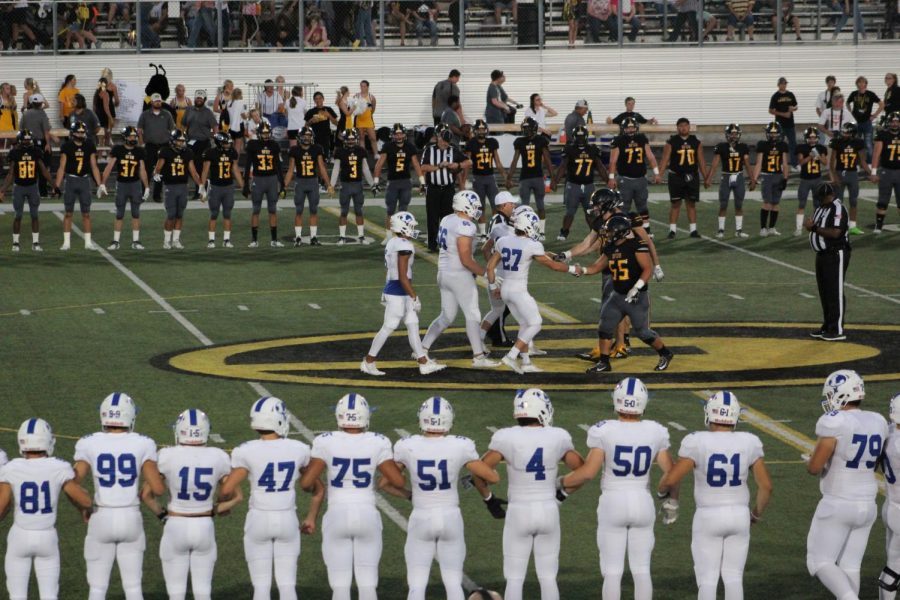 Football Team "Fired Up" To Victory Against Gatesville
September 30, 2019
In what was a highly anticipated game with both towns invested, the football team came home with a win against long-standing rivals the Gatesville Hornets.
Thursday night posts on Snapchat and Facebook went around both cities, but what fired up the entire town of Lampasas was when a Gatesville student posted a video on Snapchat of Hornet fans throwing Badger flags and signs into their homecoming bonfire.
"Them burning our flags fired us up," quarterback Ace Whitehead said. "We understand its their tradition but it still fired us up."
The Badger football team ended their 13-game losing streak to the Hornets with an emphatic 59-0 victory in Gatesville.
"I think [burning our flags] disrespected our town and our school," sophomore Jett Bramon said. "But I'm glad we showed them what we are about, so they know not to do us like that again."
The Badgers had not beaten the Hornets since 1989.
"
I don't think that we should have burned your flags until at least when we won."
— Gatesville fan Brittany Danielson
Some Gatesville fans admit that burning the Lampasas flags before the win was premature.
"I think you guys did what you said you were going to do against us," Gatesville fan Brittany Danielson said. "I don't think that we should have burned your flags until at least when we won. Good job to your team and good luck for the rest of the season to the Badgers."
The Badger fans came to Gatesville to show that the Badgers are stronger in numbers. There was only standing room on the Badgers side.
Football players said they have been practicing as hard as they can to ensure victory every week.
"Everyday we are getting better," Richardson said. "There's no maintaining. You're either getting better or worse, and I believe that everyone on the team is getting better."
The Badgers came out swinging with a lead of 7 to  0 with 10:54 left in the first. Whitehead threw a pass to wide receiver Brenton Webbor 6 yards for the first touchdown of the night Clayton Bever got the point after the touchdown. The Badgers scored in only 5 plays.
On Gatesville's first drive they turned it over. A high snap was recovered by outside line backer Isaiah Rhodes at the Hornets 44 yard line. Whitehead then delivered a strike to slotback Cameron Everts for 44 yards and Badgers scored with 9:19 left in the first quarter. Lampasas was up 14-0.
Gatesville's second drive was a turnover on downs at their own 44 yard line. Two plays later, the Badgers scored again. Whitehead with a 4-yard run. Lampasas was up 21-0 with 7:17 left in the first quarter.
Then, with 22 seconds left in the first quarter, Whitehead had a 6 yard run and got the TD. Lampasas widened their lead 28-0 with 0:22 left in the first quarter.
A recovered kick by Lampasas had the Hornets scrambling . Then trickery on the next play, Michael Murray passed to Clayton Bever for 41 yards, and the Badgers scored again making it 35-0 with 0:11 left in the first quarter.
Badgers scored 35 points in the first quarter to Gatesville 0.
In the second, quarter within the first 2 minutes, the Badgers had two plays and scored with Daunte Cuffie for 4 yards. Lampasas extended the lead 42-0 with 10:35 left in  the second quarter.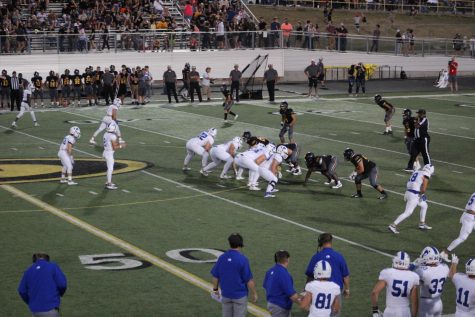 With 8:43 left in the second quarter,  running back Jack Jerome scored a touchdown making the scored Badgers 49 Gatesville 0 with 8:43 to go in the 2nd quarter.
Bever with a 82-yard pick six for the Badgers with 1:27 to go left in the half. Badgers were up 59-0 going into halftime.
Throughout the first half, the Badgers scored fast and often. Lampasas was also outgaining Gatesville by more than 200 yards.
The third quarter came to a close with no scoring.
"Every year it's a new Badger Nation," Whitehead said.  "I think this years team knew we were talented and prepared to finally beat them and we did."
With no scoring in the fourth quarter, the game ended in a redemption BLOWOUT for the Badgers.
"As a junior varsity player, I have learned many different things from them every Friday night and I couldn't be more proud of our varsity players," JV wide receiver Thomas Swilley said. "They play fantastic every single snap. I believe this could be the year we could do some big things. I also think if they want to  disrespect our stuff they should at least be able to put a point on that scoreboard."
This week is a bye week for Lampasas. They will prepare to face the Burnet Bulldogs (another heated rivalry) on Oct. 11. Both teams have an even record this season at 4-1. The matchup will take place on Badger Field and it is a District matchup game as well as the annual Football Sweetheart game for the Badgers.