Opinion: Met Gala Losing Importance
This year's Met Gala, an event in New York that has been taking place annually since 1948, was hosted in the Metropolitan Museum of Art  May 1. It is a fundraiser for the museum's annual costume institute. In order for one to attend, people must be invited by Vogue's editor-in-chief Anna Wintour, who has run the Met Gala since 1995. Attendees must pay for or have a brand represent them and pay for their place. This being said, the guests are often prominent members of society who are well respected.
In the past few years, the Met Gala has received more criticism than it has in prior years. Critics have found issues with those who are on the guest list, the outfits worn, people's actions while attending the Met and, especially this year, the theme. 
Each year the Met Gala has a specific theme that correlates with the annual exhibit, and all guests are expected to dress accordingly. In 2015 the theme was renamed to "China: Through the Looking Glass" after the original name "Chinese Whispers: Tales of the East in Art, Film and Fashion" received criticism for institutionalized racism towards Asians. On top of the title controversy, actress Sarah Jessica Parker's headdress was viewed as stereotypical and offensive to Chinese Culture.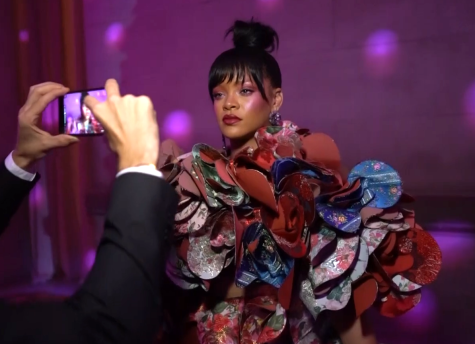 This years' theme was "In Honor of Karl," going hand in hand with the museum's latest costume exhibition "Karl Lagerfeld: A Line of Beauty" which showcases over 100 of the German-born designer's pieces and sketches spanning from 1933 to 2019. Lagerfeld has worked for brands such as Chanel and Fendi. Though being an extremely successful and well known fashion designer for his unique looks, Lagerfeld has received a lot of backlash in his career due to offensive statements and unrealistic standards that have been harmful to many. He often talked poorly about those who didn't have a small frame, claiming to dislike anyone above a UK 4 size (XXS in US). Lagerfeld has also been viewed as odd for spending a large amount of time working with not only small, but young women often forming close relationships with them. One of the most controversial moments in his career was in 2018 when actress Rose McGowan called for a boycott of Chanel, which Lagerfeld was a creative director of, after Lagerfeld defended stylist Karl Templer who was accused of pulling down models underwear without consent. 
In response to the theme being centered around Lagerfeld's legacy, some attendees wore brightly colored outfits because he disliked bright colors while others wore outfits that contradicted ones he had designed in the past. Singer Lana Del Rey didn't attend the event this year and many believe her absence was a response to a time Lagerfeld called her "a little too fat." Wintour told BBC News that the theme was to celebrate Lagerfeld's work instead of who he was as a person. Even if the Met did not have the intentions to honor Lagerfeld's personality, it was taken that way by many who are now offended by the celebration of a man who is known to be fatphobic, against sexual assault survivors and immigrants. Many celebrities are being called hypocrites for attending. This year's theme seems to have raised more uproar than any other theme from prior years. 
The Met Gala is known around the world as one of the most prominent events in the fashion world. Brands often use looks worn at the Met to inspire lines for that season. Outfits worn on the Met Gala red carpet are often designed specifically for the event, made with the intention to impress and blow others away. Guests of the Met prepare for the event by working with brands to design an outfit that will well represent both the brand and the theme. For example, to represent last year's theme "In America: An Anthology to Fashion" Blake Lively wore a Versace gown that was an ode to the Statue of Liberty. Upon arriving at the event, Lively's gown was pink with a large bow toward the back, but once Lively reached the top of the carpet, a man removed the bow while two other men unfolded parts of it and removed her pink gloves. Once they had completed removing and altering parts of her outfit, an extravagant gown with gold fading into turquoise was revealed, representing the oxidation process of the Statue of Liberty that turned the once gold copper shade into a turquoise green over time. 
This year some of the outfits were questionable. Three different attendees- Doja Cat, Lil Nas X and Jared Leto dressed as cats to portray Lagerfeld's pet cat Choupette. Though the outfits did go with the theme, many feel that dressing as an animal to an event as important as the Met Gala is unacceptable. Besides the cat outfits, many viewed this year's outfits as boring. A large majority of the men attending wore a plain suit and tie and some women showed up in plain colored or very under detailed dresses. One of the outfits that received the most criticism was the one worn by Pedro Pascal which was a red dress shirt under a red coat the length of his upper calves with a black tie and black shorts that stopped above his knees. 
Though not many came through and impressed the crowd with their outfits, a few dressed accordingly and received praise for their looks. One of the most memorable looks of the 2023 Met was singer Dua Lipa, who wore a vintage '92 Chanel couture bride gown that is white with a black and silver trim. Though her look wasn't highly detailed or over the top, it was classy, going perfectly with the theme and to add more detail to her look, Dua Lipa paired the dress with a 100-Carat Tiffany & Co. necklace.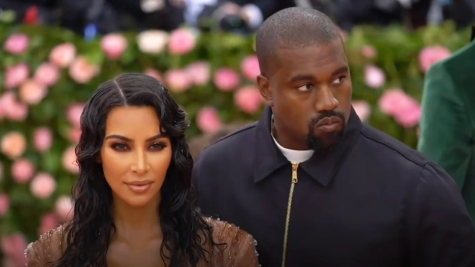 In 1948, when fashion publicist Elanor Lambert established  the Met Gala to raise money for the newly opened fashion institute of the museum, it was a dinner that cost $50 to attend. In the early years, the Met was an event in which only members of New York's fashion industry or upper class attended. Up until 1971, the Met was held at many different venues throughout New York. In 1972, fashion editor Diana Vreeland became consultant of the fashion institute and began inviting higher profile celebrities such as Elton John and Andy Warhol. Under Vreeland, the Met Gala became an event for the city's elite class and themes were introduced. When Wintour became the chairperson of the Met Gala in 1995, she extended the guest list to global celebrities from the fields of not only fashion but entertainment, business, sports and politics.  With the rise of social media, the guest list started to include social media influencers. The Met Gala is seen as one of the most exclusive events in the world, with a limit of 700 maximum attendees. Since 2014 the ticket price has increased by $20,000 making this year's tickets $50,000 per guest. 
With an event that's so exclusive and expensive to attend, many expect for attendees to be respectful and on their best behavior. However, this year Doja Cat is not only receiving backlash for her outfit choice, but for disrespectful behaviors such as vaping on the red carpet and failing to take interviews seriously. In recent years, attendees have been criticized for wearing inappropriate outfits. The rise of influencer culture has led to younger and less mature people attending the Met Gala, oftentimes resulting in controversy. Many celebrities who attended the Met Gala in the past haven't shown up for years, even though they were invited. 
 The Met Gala is known as one of the most high profile events in the world, but in the past few years it has become a time when celebrities are criticized and scandals are created. Whether issues are found in the theme, the people attending and what they're wearing, or what happens during it, the event is losing its reputation for being respectable and is becoming just another red carpet event.