Prom Tickets For Sale This Week
Prom tickets are on sale in English IV teacher Nathaniel Brayton's room, A236. Tickets cost $20 per person and can be purchased through Friday.
Tickets also include photo forms where students can choose the photo package that suits their needs the best. Packages prices range from $15 to $50, as well as a $1 dollar sitting fee per person not ordering at the time of the photo. 
Prom will be May 13, and the theme is "A Night Under The Stars." Promenade begins at 6 p.m. at W.M. Brook Park and the dance will follow at Grace Fellowship.
"Ticket sales are excellent as always," Brayton said. "Everyone always wants to be a part of the Promenade."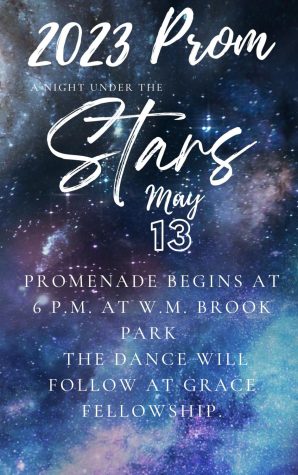 Ticket sales tend to stay around 250-300 tickets every year, earning an estimate of $6,000 per year. 
"The money made from prom always goes right back into next year's prom, and I think the ticket price is an absolute steal!" Brayton said. "These are some of the cheapest tickets in the state, and the students get to go to the promenade and dance."
Prom tickets include access to both the promenade and dance, as well as food and party favors. 
"Because we usually have the prom at local venues, we can keep the cost down compared to some other schools which charge $50 and up per ticket," Brayton said. "I think students should buy a prom ticket because the people who go to the dance always have a great time, and it's an inexpensive and safe way to spend the weekend." 
Fake tickets and reselling tickets have not been a threat to prom ticket sales, and prom guest forms prevent anyone not on the list from entering. 
"I most likely won't go to prom this year because I don't have anyone to go with and I don't want to be a third wheel," junior Arlis Nevarez said. "And it's pretty expensive and I'm kind of broke right now." 
Prom is often considered a major part of the American high school experience. It is almost exclusive to American culture and depicted in many teen films. 
"I've been thinking about going to prom senior year," Nevarez said. "It tends to be part of that essential high school experience and stuff." 
Some students plan to go but haven't bought tickets yet despite the close deadline.
"I haven't bought my tickets yet, but if I go to prom I'm just going to the promenade event over the river and then leaving to eat dinner with my girlfriend," junior Nathan Greenway said. "I have nothing else planned really unless we think of something as we go along."