Cosmetology Students Compete at State in Corpus Christi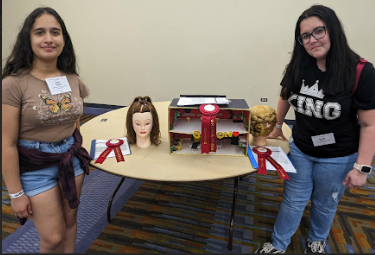 Cosmetology competed at state in Corpus Christi for the SkillsUSA competition March 31. 
Senior Ruby Parra, freshman Vanessa Armas and senior Kilana Baird received State Excellence. 
"We had an enjoyable trip," cosmetology teacher Christine Hearn said. "We got to see many projects from multiple trades and were able to do some team building exercises."
Students chose from different categories to base their projects off of.
"I did day and evening hair, needing a semi formal hairdo to last throughout the day and the night," Parra said.
Students shared new experiences in Corpus Christi.
"We also had many firsts for the students," Hearn said. "We got to go to the beach, go to a hockey game, as well as ride go carts."
The hard work the students put into their projects came with some fun activities to do in between the competitions. The cosmetology students traveled with automotive students as well.
"Even though cosmetology and automotive are different trades, we still deal with the same customer service," Hearn said. "It was nice to get to know the other side and to see the different level of experience in students"