Girls' Soccer To Play Brownwood Tonight
The varsity girls' soccer team will be playing a home game tonight at 6 p.m. against Brownwood. 
"We've had a lot of success as a team this year, we work well together," senior Anna Burgess said.  "We haven't once given up, so I have high hopes for the team this season."
Last year, the team lost to Brownwood 11-0.
"I think we will do better than we did last year," Coach Emma Sharp said. "Each year these girls come out hungry for more and more wins."
The team has had a triumphant season so far, and will hope to continue to improve and grow.
"I feel like everyone has been giving it their all at every game;" sophomore Hailey Palmer said. "Using our wins and losses to get better for not only themselves but for the team as well."
For many seniors, this will be their final year playing soccer with a team.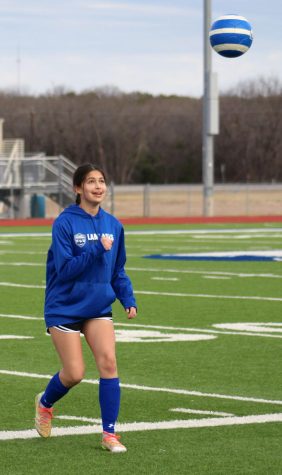 "I love playing my senior year," Burgess said, "It is definitely bittersweet because I have a lot of lasts this year and it's both sad and exciting thinking that in just a few months I'll be done."
Coach Sharp started coaching the previous year, and even plays during her time off. 
"I love coaching this sport," Sharp said.  "I have played since I was four years old and have never taken a year off of playing. I'm still playing in a women's league in Austin. The pace of the game, intensity and just the relationships I get to build with the athletes are what make it all so fun!"
Despite Sharp being a newer coach, she says she has developed a "strong bond" with each of her players, especially her seniors.
"I am very sad to see them go," Sharp said. "They have been with me now for two years and we have grown such a strong bond together! [senior] Becca [Nobles], [senior] Nyla [Long], [senior] Nevaeh [Stevens] and Anna all play such a huge role on the field and they are going to be missed!"