Wrestling To Compete Again Tomorrow
     The wrestling team competed Jan. 18 at home. Freshman Kaiden Fernandez, junior Derrick Winfree and senior Hank Kielpinski won their matches for boys  and freshman Taylor Martel and sophomore Joey Roberts won their matches for girls. They will compete again at College Station Saturday.
     "My goal for this season is to try to take more kids out of district than we did last year," wrestling coach Donavin Kleckner said. "Last year we took the most kids we've ever had out of district."
     The practices usually start with a warm up and then go into a light drilling where athletes practice skills they have done previously. Then Kleckner will teach new techniques. Then the wrestlers will go into what is called live, which is a practice match or there will be a conditioning segment.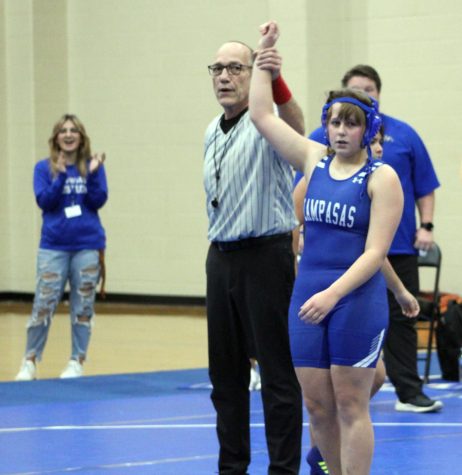 "I wrestled in high school which was probably the sport I was best at," Kleckner said. "It was a good challenge for me and I truly enjoyed the aspect of one-on-one combat." 
     Kleckner thinks Killeen-Ellison will be the hardest team to beat during the season; they are ranked second in the state.
     "[My goal is] just to get a few of us to make it to state," wrestling coach Elma Garnett said.
   Garnett thinks the team has the ability to make it to state this year
     "My goal right now is to get back to wrestling and get healed from my injury and get to state and place," sophomore Damian Rivas said.