Dance Classes Perform Winter Showcase Dec. 2
The annual Winter Showcase took place on the evening of Dec 2. in the cafeteria. This showcase included dances performed by all classes, Flames, Lil' Sparks, as well as a cover of the song Grenade by Bruno Mars performed by junior Aliyah Jacoba. 
"I loved getting to see everyone dancing, having fun, and not having a care in the world because they wanted to just simply make memories," dance 2 sophomore Brylee Wright said. 
The opening performance Americano featured all dance classes as well as the Flames. 
"My favorite part was watching the opening dance because it was nice to see all the dance students come together and dance as one big group," sophomore Maggie Ochsner said. 
Sophomore Flames captain Madisyn Moreland described learning the opening routine as "chaotic."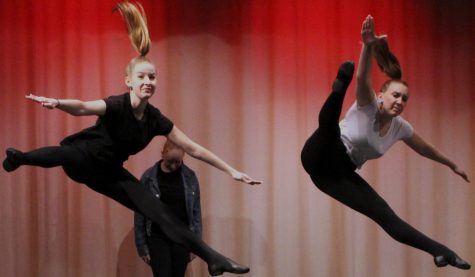 "We didn't really know how it was going to work out, but I think we did the dance pretty well," she said. "Opener was definitely in my top 3 favorite dances."
Moreland said she enjoys participating in showcases because they offer a chance to perform without the stress of competition. 
"In reality the pressure competition brings is crazy. It's like going on a roller coaster that's way too fast and you don't know where or even when you are," she said. "Showcase on the other hand is pretty chill. You don't have the stress of having to compete against other routines and you feel more comfortable because it's in front of people you know and a town that supports you."
Like many other audience members who waited in a line out of the door to get into the showcase, Ochsner said she enjoyed watching performances and had a good time. 
"The showcase had an overall positive environment because everyone in the audience was there to support and cheer on the girls," she said. 
Dance classes will return to practicing showcase routines around spring for the Spring Showcase, and Flames will start basketball season.
"Seeing the hard work the girls put into the show pay off was truly amazing," Ochsner said.