Girls' Basketball Competes in San Antonio
The Lady Badger basketball program began their season Nov. 5 with a loss against East View 46-50. Their record is currently 12-5 after their most recent win against Copperas Cove 46-38 Tuesday. They will compete in a tournament in San Antonio that started yesterday at 1:30 p.m. and will continue through Saturday. 
"We are currently 12-5 and ranked #16 in the state in 4A," head girls basketball coach Mark Myers said. "I am pleased with the record but we could very easily be 15-2 right now.  We let a few close games (Dripping Springs, East View and Copperas Cove) slip away from us.  All five of our losses are against 5A and 6A schools."
At the beginning of the school year, senior Brooke White transferred here from Georgetown. She's currently starting in the first rotation, won MVP at the Austin Crockett tournament and averages 11.8 points per game. White said she wants to continue playing basketball in college. She has one offer and she has already been accepted to the school. Sophomore Addison Bochardt and senior Payton Tatum made All Tournament at the same tournament. 
"I knew Addison before, so I was excited to come and already have a friend on the team," White said. "But other than that everyone's been really nice, and it hasn't been as hard as I thought it would be. I think this team is a lot closer [than Georgetown's] and the more we play, the better we're getting as far as knowing how everybody else plays, so it has been better for me."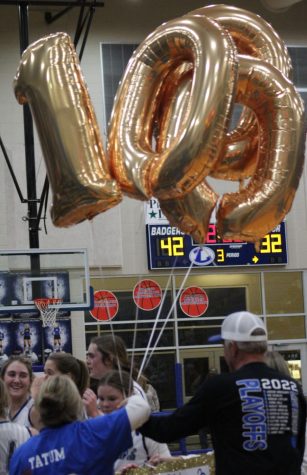 White had to get her transfer approved by the district athletic directors and the superintendents from Marble Falls, Burnet, Jarrell and Lago Vista before she was allowed to play.
"I didn't know if my other coach would sign off, but she signed off and then I had to go through this hearing thing, and I got cleared," White said. "So that was a big process that I've never had to do before, but I got approved so it went good."
White knew Myers and Borchardt before transferring from Georgetown from the AAU program he runs during summer.
"Having that relationship with your coach, and like, knowing that they just want the best for you, and they'll help you with things, I think that's really important," White said. "And I haven't necessarily had that before, so it's really comforting to have that this year." 
Tatum scored her 1000th point Nov. 15 at home against Killeen, and won the game as well. Tatum is a senior meaning this is her final year playing high school basketball. She's starting in the first rotation and averaging 12.6 points per game. 
"It's kind of sad knowing this is my last year to play for Coach Myers and also sad that I will leave my teammates who I'm with almost everyday," Tatum said. "Since this is my last year, I really want to do well during district and hopefully make a run in the playoffs."
Tatum has been with Myers for all four years of high school as a four-year varsity starter.
"Payton breaking the 1000 point barrier is very impressive especially considering the number of games she has missed over the years due to injury," Myers said. "She might have broken the 2000 point barrier. Payton and I are pretty close and will really miss her next year."
The Lady Badgers are competing in a new district this year which consists of Marble Falls, Burnet, Jarrell and Lago Vista, but these are all teams the girls have seen before.
"I think as a team, we need to work on working together as a team more [before district]," junior varsity guard Jenna Ball said. "Because we have a lot of great things we can do individually I just think we need to learn how to combine them all to become the best version we can be. I think they're all going to be tough [district games], but I think they're all winnable, if we can play our best. They'll definitely be more comparable to us than last year's district."
The girls' still have another tournament, four games and a month to prepare for district. They will compete in an overnight tournament in San Antonio this weekend and at home against Taylor Dec. 6 at 6:30 p.m. 
"We are super excited about our tournament this weekend in San Antonio," Myers said. "We will play almost all 6A schools and we will be making our traditional holiday video. Look for that video on our Twitter and Instagram accounts."