Auto-Tech Building to Open Second Semester
Auto-Tech classes are working to move into the new auto-shop during the second semester. The building offers many opportunities for the automotive students and agriculture classes.
"One thing we are excited to implement is the ability to add more hands-on training," auto-tech teacher Edward Gold said. "With having a larger classroom, and more space in the shop, we will be able to use the class in a lab style setting."
The new shop has a wide range of equipment to perform two and four-wheel alignments on vehicles, along with repairs and enhancements.
"The new shop has five work bays compared to really only one work bay in the current shop," auto-tech teacher Ben Boyd said. "The new shop has four vehicle lifts compared to only one at the old shop. One of the lifts is also set up with an alignment system."
New features of the shop will help the students better understand how the automotive world works and help them grow as Automotive Technicians.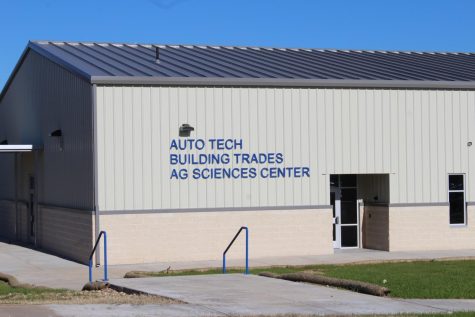 "I think that we're going to gain a lot of needed experience for a job in the automotive world," junior Bennett Jensen said. "With all of the new lifts and bays, we're going to be able to take on more than just two cars at a time and it will let us begin to really grow as automotive technicians." 
The shop will run as an everyday auto-shop.
"Our hopes are to run the shop throughout the day like a normal shop would run," Boyd said. "The auto tech II students acting as the service writers, and shop foreman roles assigned to the Auto I class to repair orders. Since many of our upper-level classes overlap, our classes can potentially work hand in hand seamlessly throughout the day to complete repair orders."
Agriculture, construction and welding classes also have a place in the new building. 
"We are very excited for the building, new equipment and the opportunities that it presents for the students," Boyd said. "This facility also presents new opportunities to the agriculture, construction and welding departments as well. Even though some of those programs are not moving into the new building, it provides space for those programs to spread their wings and grow in their own right. I would also like to bring attention to all the staff and students that have worked behind the scenes to make this happen."