Review: Meeting Taylor At Midnight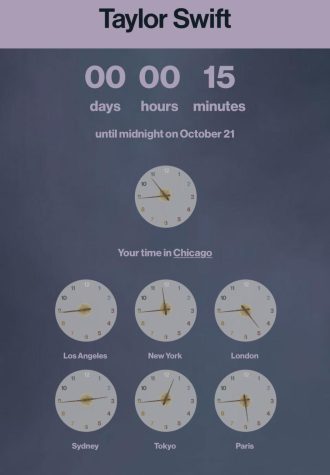 I joined Swifties around the world and sat in front of my screen eagerly watching the countdown for the release of Midnights. As the timer changes from 1 hour, to 30 minutes, to 5 minutes, the exhilaration expands rapidly throughout my body. At 11:59 there is only one minute left until Taylor Swift's tenth studio album is released. 5, 4, 3, 2,1. Across the globe, we are all unified the moment the clock strikes midnight.
Eleven-time Grammy Awards winner Taylor Swift released her album Midnights, a collection of songs that reverted her more recent style back to her 2010s style, Oct. 21 at midnight eastern time.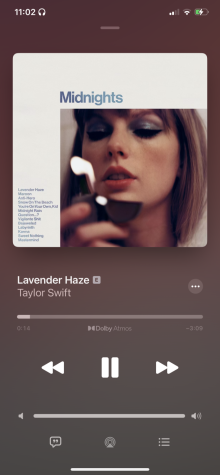 This album contains thirteen tracks Swift described as "a collection of music written in the middle of the night, a journey through terrors and sweet dreams," during her acceptance speech at the VMAs (Video Music Awards) in August. One of these tracks, "Snow on the Beach," features Indie Rock singer Lana Del Rey.
After listening to this album at least 5 times within 24 hours after it was released, I can only describe it as the perfect mix of every Taylor Swift album to have ever existed. Based on Swift's recent releases and her description of the album as "the stories of thirteen sleepless nights scattered throughout my life," I expected to be brought into a melancholic trance that I would fall deeper into with each song, but I was wrong.  
As soon as I played the first track "Lavender Haze" I was shocked to hear an upbeat tune filling the space around me, which reminded me of Swift's 2014 pop album, 1989.
At three a.m Swift released Midnights (3 am Edition) which contained seven new tracks Many fans felt that these songs were able to capture the sad feeling they expected the album to possess. 
Since the release of Midnights, Swift has released a music video for her third track "Anti-Hero," which received both praise and backlash and her ninth track "Bejeweled." Many believe that Swift hid 'easter eggs,' something common for her,  in the "Bejeweled," music video, to hint at the release of Speak Now (Taylor's Version) which would be her third album re-release. 
This album proved  Swift to be a musical "Mastermind" by bringing her pop era back into existence through beat and tune, but also keeping the sorrow found in her more recent albums hidden through the lyrics.