Cheering For The Future
Cheerleaders Continue Tradition of Mini Camp
Cheerleading has been a part of high school legacies across the country since the 1920s, leaving its mark on those who want to follow in the wake of those who cheered before them. This was the case for the young Badgers who attended the cheerleading mini camp Oct. 8. As young attendees tossed pom-poms into the air in a sea of blue alongside their mentors, inspiration served them to follow in their footsteps.  
"B.A.J.R!," Shelby Kate Adolph, age 7, said. "Go Badgers!"
Shelby attends second grade at Kline Whitis Elementary school. She had been looking forward to this year's cheerleading camp ever since she had attended the one the year prior. 
"I like to do cheerleading specifically because I like to meet other people who are, like, really nice and are from other places," Shelby said. "And I really like to do dancing a lot, and I like to do, like, different moves of dancing so I can get better at them." 
"
I just listen to how they do it because I know they have been cheerleading for a long time and they're professionals.
— Shelby Adolph, Age 7
Shelby practices her cheers and dances everyday after school at her house. 
"The older cheerleaders are really nice," Shelby said. "I think that they're nice to show that they're friendly. I just listen to how they do it because I know they have been cheerleading for a long time and they're professionals. 'Cause I always look at them and be like 'yeah I can do that I'm listening' but I just say that in my head." 
Shelby's mother Kristina Adolph, an ECSC (early childhood special education) teacher at Kline Whitis Elementary school, is grateful for the camp igniting passion in her daughter. 
"I think that the Badger cheerleaders did an excellent job working with the young little Badgers," Adolph said. "They have patience. They had a structured order and fun activities for all the kids." 
Adolph thinks due to early exposure Shelby will be more likely to try cheerleading when she is in high school. 
"They get to do hands-on cheerleading activities which exposes them to do cheerleading," Adolph said. "I feel as if she'll explore cheerleading as she gets older." 
Cheerleading coach Shannon Lindsey continues the tradition of the camp, as it has been around since she was in high school. 
"I think it is such a fun tradition to keep going," Lindsey said. "The community loves it and I always get numerous emails throughout the year asking when we are doing things for little ones and if we have a date for our mini camp."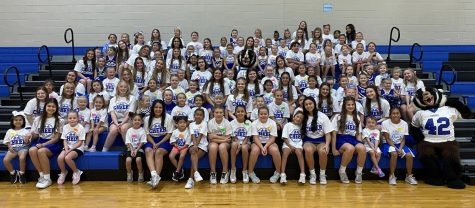 The kids were taught 3 cheers, a dance, jumps, and the older Badgers stunted with the young Badgers. 
"Cheerleading, just like other team sports, teaches kids so many life lessons," Lindsey said. "Our mini camp is one of the best events for the cheerleaders to be able to mentor and inspire the future of our program.  Most of the older kids that attended have been coming since they were in Pre-K." 
The turnout this year was around 90 children. These numbers are slowly getting closer to the amount of people who attended the camp in years prior to the COVID-19 pandemic. 
"The kids had a blast," Lindsey said. "They love learning all the material and playing games. I received lots of messages from parents saying how much they appreciate the cheerleaders and how much their kids look forward to attending cheer camp each year."