Members of Cross Country Team to Compete At Regionals Oct. 24
The boy's cross country team and one girl will compete at regionals Monday. 
With the team changing their strategies and working towards their goals at invitationals and district, the team advanced.
"I'm super excited to go to regionals," cross country coach Macey Siegert said. " It's always awesome when we go past district. These kids work hard and deserve it" 
Senior Ben Stone said  he feels good about going to regionals.
"I'm glad to have more time on the team and I feel like we will do decently this year," Stone said. 
Siegert attended two coaching clinics over the summer to learn new strategies from other coaches. 
"I found a routine that I felt like worked for my kids," Siegert said. 
Stone said he hopes to beat his personal record at the regional meet.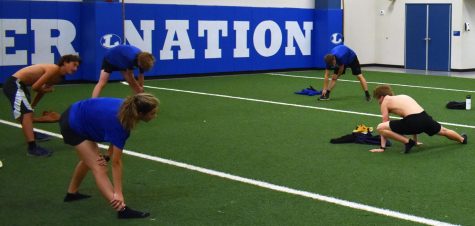 "I've been doing a lot of speed work to get my pace up," Stone said.
Along with beating personal records, Siegert wants the athletes to enjoy the experience.
" I hope to see a few PRs and the kids have some fun with it," Siegert said. "I'm trying not to let the pressure of going to state or not going to state affect them."