New Badger Signs Displayed Around School
New Badger designs are being displayed around the school. The main entrance and front cafeteria door have large murals over them, the library doors are covered with a wrap displaying school colors and mascots and there are signs on some stairs. This is all a part of a new initiative to display school pride all around campus. 
"We wanted to spruce up the front entrance and show some pride at LHS," Principal Joey McQueen said. "Waterboy Graphics installed the signs, and they are professionals and produce quality workmanship."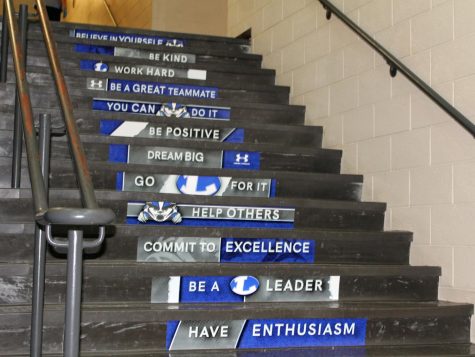 An administrative team planned what they wanted for the signage. 
"​We, as an 'Administrative Team,' talked about what we wanted on the signage; however, Mr. Weinheimer oversaw the designing," McQueen said. 
According to the administrative team, there are more plans for signage in the future as well as more motivational quotes lined across the stairs. 
"When people and students walk in, they will take pride in their school," McQueen said. "Anytime you can show school pride with signage, it will enhance the culture of the school."
McQueen also noted that the cost to produce the signage was relatively low compared to the amount of work done.  Waterboy Graphics, who installed the designs, specializes in affordable school designs. 
"I think the signage is cool," junior Brailyn Craddock said. "It makes the school look better. I also think [more of] the motivational quote stairs would be a great addition to the school. It would help kids motivate themselves."