Track Teams To Compete At Regionals Today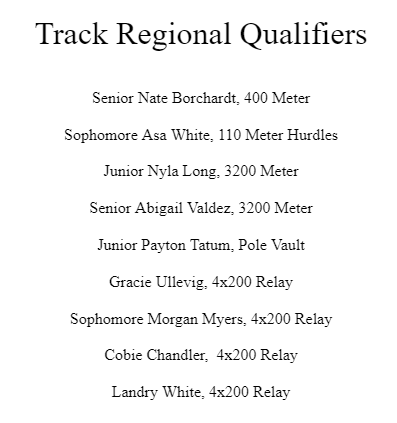 Track teams competed at district in Gatesville April 11-12 and competed at area in Brownwood April 22. Those who advanced to regionals will compete in Lubbock today and tomorrow. 
"I am extremely happy," head girls track coach Samuel Waldrip said. "We had some athletes who made great strides this year. Our Varsity Boys and Girls teams both had athletes advance to area and regionals. Our JV Girls were the district champions this year. There is a lot to be proud of."
At the district meet, girls varsity placed fifth as a team, girls JV placed first, boys varsity placed fourth and the boys JV team placed fifth. Over a dozen athletes advanced from district to area. 
"I think my team and I did really good [at area]," sophomore Morgan Myers said. "We ran our best time of the season even with the wind. I'm super excited to get the opportunity to go to regionals." 
Running events compete today and will also run tomorrow if they advance to finals. All field events will be tomorrow. 
"I know that every one of our athletes who qualified for Regionals will go to Lubbock and compete to the best of their ability and will proudly represent Lampasas High School," Waldrip said.