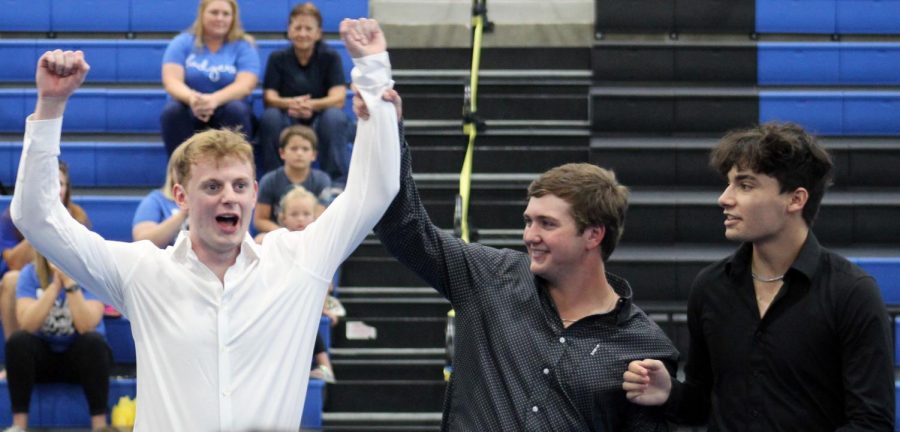 HoCo King Quinn
Winner Announced At Pep Rally
September 24, 2021
The crowd explodes in noise, a cacophony of screaming, yelling, cheering and whooping encompasses the gym jam-packed with students. Cheerleaders jump and students stand and applaud, celebrating the new winner. The air vibrates and the bleachers shake as senior Quinn Pace is announced homecoming king at the pep rally Sept. 17.
"I'm extremely honored that I won and can only thank everyone that supported me," Quinn said. "I'm solely representing the amazing student body and nothing more."
These moments, though fleeting, have an impact that lasts.
"It felt amazing once I heard my name and had the guys next to me congratulating me," Quinn said. "Definitely a rare feeling that you only get from so many things in a life."
Quinn's mother, Margot Pace, is proud of her son.
"I think it is a huge honor for Quinn to have been chosen by his peers to be HOCO king," Mrs. Pace said. "I was filled with pride. He really has a good heart and his friendships are very important to him."
Senior Katie Procter voted Quinn for king and is ecstatic that he won.
"I felt an overwhelming amount of happiness for him when he won the title," Katie said. "I voted for him because his school spirit is out of this world. I felt like he deserved it."
Although he was unable to attend the pep rally, that doesn't stop Quinn's father, Ian Pace, from expressing his approval.
"As a parent, you want your kid to be a good human," Mr. Pace said. "I'm proud of Quinn that his classmates felt like he acts like a good citizen and was worth voting for." 
As a senior, Quinn is preparing to graduate high school and explore the world for himself.
"Quinn is definitely ready for the next step in life," Mr. Pace said. "His hometown and school have well prepared him to be successful in his endeavor. As his Dad, I just feel excited and happy that I get to watch him step out in the world."