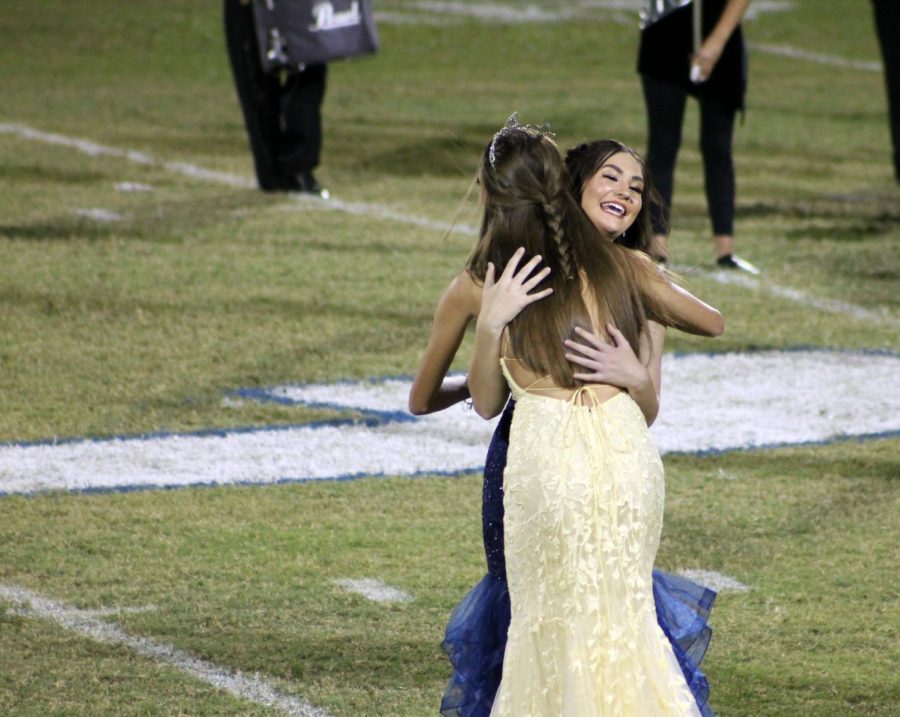 Brianna Miller, Social Media Editor
Cheer Co-Captain Wins Homecoming Queen
September 24, 2021
Six girls stand on the field in anticipation to see who wins the crown. Silence blankets over the stands as everyone waits. Then, Jara Stephens is called over the speaker as the 2021-2022 homecoming queen. The silenced crowd roars with cheers, the girls wait on the field as flower bouquets are placed in their arms. Jara smiles with relief as she walks off the field with her dad. 
"I had no idea how to react," Jara said. "I was very happy but very thankful for everyone who supported me throughout the week because if it wasn't for them I couldn't have done it by myself."
Homecoming queen is something Jara has hoped to earn since she was little. It is also a title she worked very hard to receive. 
"Jara and I have been friends for a long time," senior Gracie Lee said. "She's kind, funny and cares for everyone and that's what we were looking for in a queen." 
Justin Stephens, Jara's dad, helped campaign by using his hot dog shop on Key Avenue. He put "VOTE! JARA STEPHENS HOCO QUEEN" on the hot dog sign out front. 
"I was very nervous," Jara said. "There were a couple times I had turned to my dad and told him I thought I was scared and he told me it would all be okay and to just breathe."
Leading up to the crowning, there is a homecoming parade and town pep rally for everyone to come out and see. There was also a school pep rally where the king, Quinn Pace, was announced and crowned before the football game.  
"I had a lot of fun celebrating the week of hoco," Jara  said. "My favorite had to be either Carson and I's homecoming skit, or riding in the cool car with all the other girls." 
Jara is also a member of the varsity cheerleading team, and co-captain, coached by Shannon Lindsey. She has been cheering since her sophomore year, starting on JV and moving up to varsity for junior and senior year. 
"I'm always honored when my girls are on the court," Lindsey said. "I think it shows the quality and character of the girls in the program. I'm also very proud of Jara for winning. I think she is deserving of that honor."
As a cheerleader and now a homecoming queen, small girls look up to be just like Jara. Their eyes go to her as she cheers at games, their eyes light up in hope to be just like her as she walks across the field in her dress and crown. 
"The best feeling of that night wasn't about me winning," Jara said. "Seeing all the little girls' eyes light up as they came to me. The best feeling was getting to interact with each of the little ones and take pictures."