Boys Basketball Begins District Season Tonight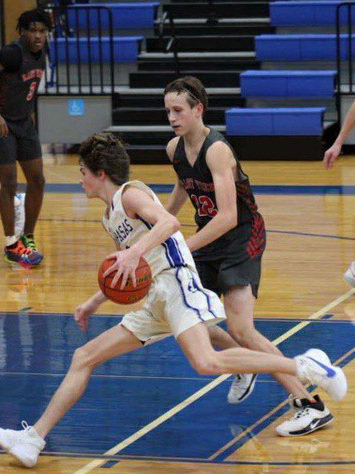 The varsity boys basketball team starts their district season today at 7:30 p.m. against the Stephenville Yellowjackets at their gym. 
"[I'm] most excited about being able to get these eight district games in, hopefully," head coach Aaron Nuckles said. "There is so much uncertainty right now that we cannot just assume that the games will take place."
The team has a 14-1 record right now, with hopes of getting their win number higher. 
"The season is off to a great start, so as long as we keep head strong we should be on track to make it a great season," junior Quinn Pace said.
Their district consists of Stephenville, Glenrose, Brownwood and Gatesville. They will play each team twice before playoffs, which the Badgers have hopes of going far in. 
"After all of our hard work, I really can see us going deep into the playoffs," junior Nate Borchardt said. "We have been playing very well and if we continue to do what we do then we can be very successful."
The team is number 25 in the state according to the TABC rankings. The only team in the district above them is Glenrose, ranked at 21.
"I am cautiously optimistic about district," Nuckles said. "If we handles ourselves and the things that are thrown at us, I think we could win the thing, but if we don't, we could slide anywhere from the two spot, to the last."
Pace said there is a special bond between the boys that can't be found just anywhere. It's a friendship attained on and off the court. 
"I'm excited to play with a team where the chemistry is the highest I've ever seen," Pace said. "It should be interesting to see how it plays out when we meet formidable opponents."
The community is excited to see how far the boys will go after witnessing how successful the football team was this year. The boys have a challenging road ahead, but they also have the strength to get the job done.
"All thirteen of our varsity guys have grown so much physically and mentally from last year," Nuckles said. "So far the guys are doing things that there is no way they could have pulled off last year."