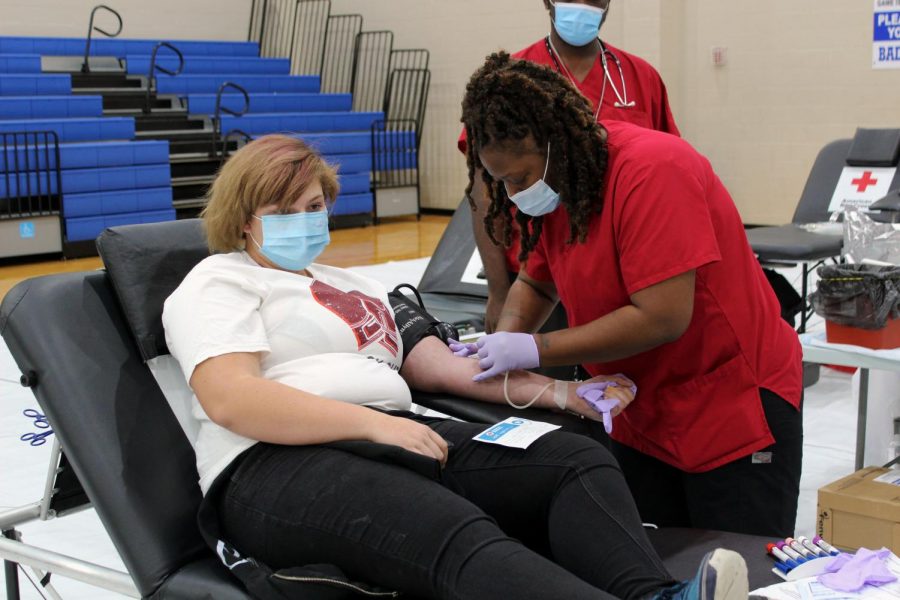 American Red Cross Hosts Blood Drive
December 7, 2020
The American Red Cross hosted a blood drive at the high school Nov. 19.
"We are helping other people in need, especially newborns, people that are sick, and people who need blood everyday like people with leukemia," nurse Valerie Perez, who was working the blood drive, said.  "So it is very important that people actually know a little bit more so they can help others." 
Perez said giving blood is an essential way to help those in need, and although the slight pain may be daunting to some, for most people it is worth it.
"I have always wanted to do it before, and I am finally old enough to do it for the first time," senior Christian Corrasco said. "It was fine. I mean, some people that don't like needles probably wouldn't care for it because it was a bigger gauge, but other than that it doesn't hurt very much."
Junior Anthony Timbal believes giving blood is good, and it was fulfilling for him. 
"I think it is good," Timbal said. "I think people should do it if you can, and I have always wanted to, it was exciting. I was a little nervous, but it was very calming and it felt fine. I would definitely do it again."
One pint of blood can help up to three people, so if there are many participants, many people could get the blood they need. A Power Red donation, where they separate the red blood cells from the blood, can help up to six people.
Power Red donations also occurred at this blood drive. Sophomore Shayl-lynn Kosa wasn't able to do so because of an issue, but she said that she would have if she could.
"If I would have been able to, I was going to do plasma too," Kosa said. "They take the blood, and then they also put saline in you, and then they will separate it, and then return the plasma to you."