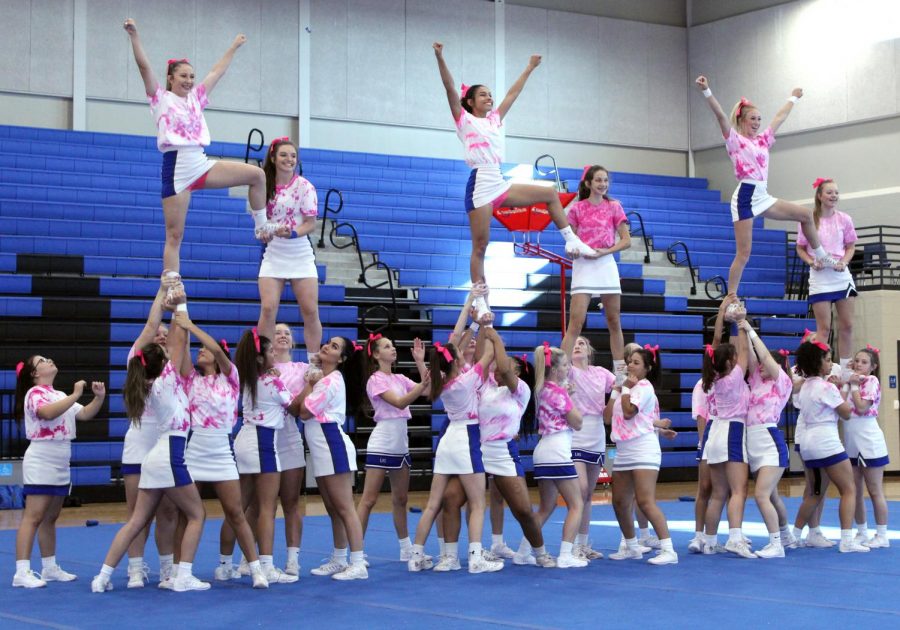 In-Person Senior Pep Rally To Be Held In Gym Nov. 6
November 2, 2020
The cheerleaders, band and Flames are putting together an in-person pep rally for seniors and their parents only to attend Nov. 6, the last home football game of the season. 
"The pep rally will be in the competition gym during normal pep rally time," head cheer coach Shannon Lindsey said. 
The students are expected to take multiple health precautions to avoid contracting COVID-19 at the pep rally.
"The seniors will be sitting in the bleachers on the junior/senior side of the gym," Lindsey said. "They have the whole side to themselves, so they will be asked to spread out. Senior parents can also come to this pep rally and socially distance in the same bleachers."
Neon colors will be the theme of this pep rally, so those attending should wear their brightest colored shirts. 
"Our seniors have a bright future ahead of them so the theme will be neon," Lindsey said. "We would love for everyone to wear neon to this pep rally!"
This pep rally serves as a breath of fresh air for the seniors who have been inconvenienced by COVID-19 this year.
"I've been waiting for my senior pep rally for four years and I feel very lucky to get to perform in front of my peers for my last pep rally as a Lampasas cheerleader," senior cheer captain Janice Hanson said. 
The school will be on the pep rally bell schedule for the day, and the other classes will watch the pep rally in their 9th period class on a livestream. 
"I'm most excited about having an actual crowd to cheer and perform to," junior cheerleader Isabel Ybarra said. 
This pep rally is deemed to be the safest way the school can promote school spirit and create hype for the football team. 
"I'm glad we get to show the school our routines and to do so safely," Hanson said. "Safety needs to come first, this year especially, and school spirit comes second."