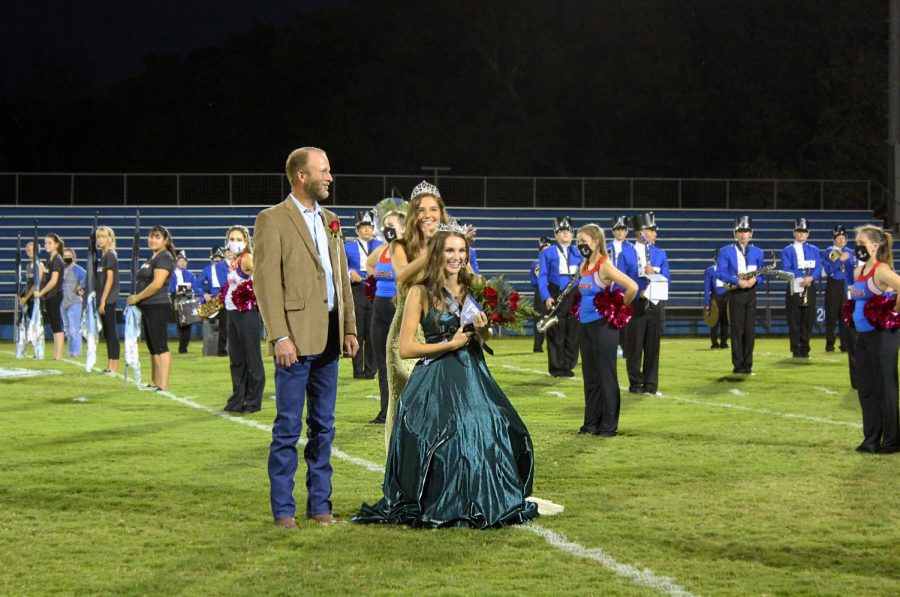 Disney Princess Legacy
November 2, 2020
Anticipation builds as the announcement is postponed. Then, the day finally arrives and everyone gets ready for the annual town pep rally. The stadium lights up as the girls walk down the field accompanied by a family member, waiting with hope as the announcer begins speaking. Finally, football sweetheart, student council president and basketball captain Addison McDonald wins homecoming queen. 
The homecoming pep rally was Oct. 21, following the parade around the square and down through the neighborhood to The Badger Stadium. Addison McDonald and Cole Wheeler won the Queen and King for the 2020-2021 school year. 
"I was in shock, absolute shock," McDonald said. "I heard my name and everything became a blur, my jaw dropped to the floor when Jessica put the crown on my head. I have never felt so honored."
Every year the previous homecoming queen attends the event to have the pleasure of crowning the upcoming girl. Jessica Ball was the former basketball captain, student council president and homecoming queen.
"Jessica left very big shoes to fill," McDonald said. "No doubt about it, but I feel like I am right on track. I'm not supposed to replicate exactly what she did, but to make my own shoes. This is me." 
Due to COVID-19 many events during the fall have been changed or canceled. Through it all, every person on the homecoming court has continued to work just as hard as they have previous years. 
"Anyone who knows Addie knows that was her dream and it was very well deserved," senior Owen Seaver said. "She has so many great qualities. Her personality is so sweet you can't help but smile when around her."
Addison has wanted to be homecoming queen since she was only four years old. 
"This is certainly something I will never forget," McDonald said. "As a little girl I watched the queen get crowned and the pure joy in her face, that's when I knew."
Winning homecoming queen is not something everyone gets the chance to do, so McDonald is grateful for the honor. 
"It was literally a dream come true," McDonald said. "My Disney princess legacy is filled. How could I ever forget?"