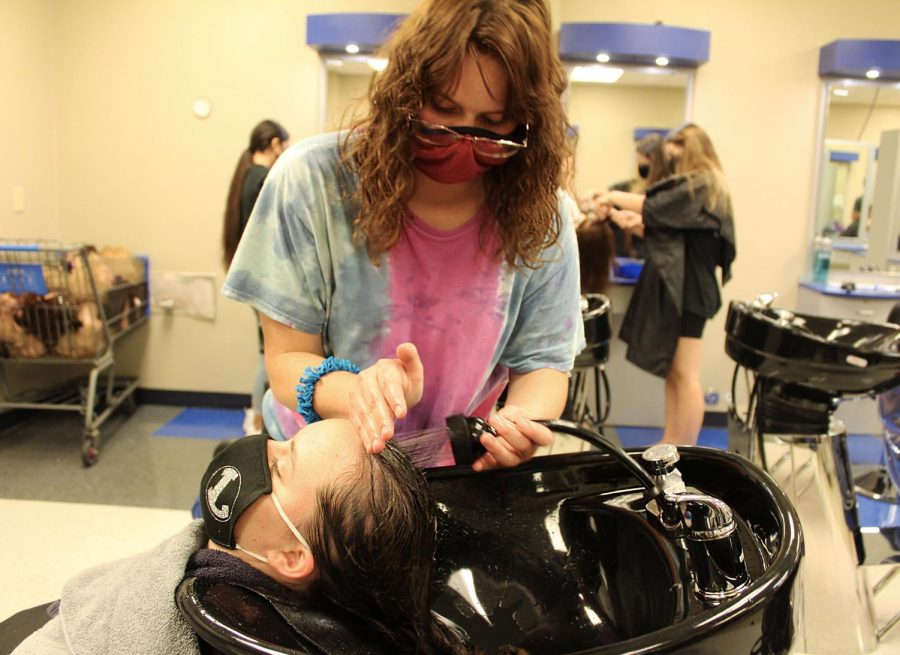 Hair One Year, There The Next
Cosmetology Class Gets New On-Campus Salon
September 3, 2020
Last year floods from one certain room on the second floor were not uncommon. Every other day there was mopping and maintenance needing to be done. This year things are different.
In 2019 cosmetology was a brand new elective, so there was not an official salon for the class. A classroom and a lab were separated and there were regular issues with the pipes that caused pools of water to form. On one occasion, the water went into the room below and got the ceiling tiles wet.
"Last year, I did a lot of mopping," cosmetology teacher Christine Hearn said. "This year it feels more like a salon because it is a salon."
With the edition of an advanced class came a new salon fit with hair washing stations, manicure and pedicure stations and facial stations. 
In the advanced classes, after learning to cut hair, students will offer haircuts to teachers and other students for a small fee.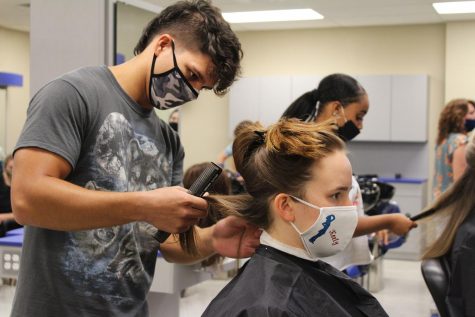 Cosmetology classes are also working with the Flames, helping them learn how to put on their makeup and put up their hair.
"We have 25 stations," Hearn said. "Fifteen are permanent along the wall, five of them are two-sided so they could be moved out of the way. We have room for manicure tables. We have room for a facial table," Hearn said. "We are very excited we have working shampoo bowls."
With the new salon bringing more experience opportunities, the advanced class students can earn a cosmetology license at the end of the school year if they pass their certification test. 
"We'll do every service," Hearn said.  "Everything that can be done, they're going to learn it."