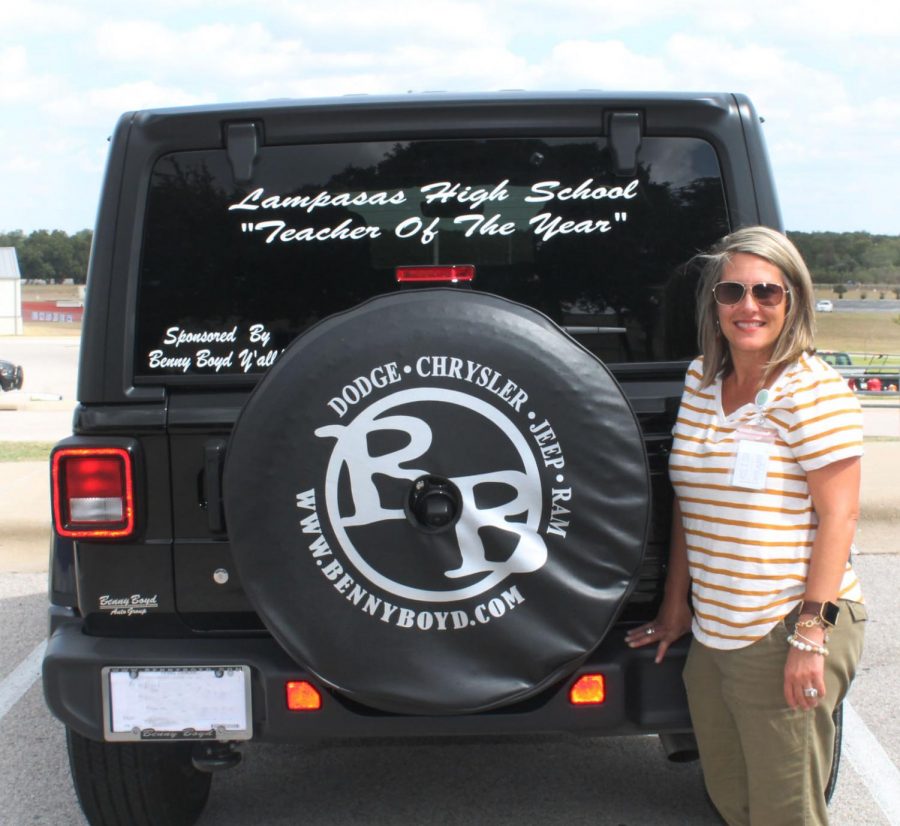 Teacher of the Year Receives Jeep to Drive For Month
October 18, 2019
Instructional Specialist Kalin Wells was exiting church on a Wednesday night when Principal Joey McQueen told her she was offered to drive a Jeep for a month in reward for earning the illustrious title of Teacher of the Year. The back windshield is branded "Lampasas High School 'Teacher of the Year'". The Jeep is sponsored by Benny Boyd. 
Wells won the offer to drive the Jeep for this month, and Coach Ryan Race was offered to drive it for next month.
"The ones (Teachers of the Year) that were selected this year are phenomenal, and Benny Boyd had contacted us about wanting to highlight those teachers and Dr. Bott was instrumental when working with them," Superintendant Chane Rascoe said. "He actually contacted a few districts throughout the state that had done a program similar, and we ended up going and Benny decided that we were going to do it directly for the teachers of the year. They (Benny Boyd) volunteered and the teachers get to keep the vehicle for 30 days."
Wells is  thankful for the chance to drive the Jeep around, even if a bit nervous for the safety of the Jeep.
"My first reaction when I learned about the Jeep was scared because I didn't want to wreck it, because I had never driven a Jeep before," Wells said. "But then I was like, 'That is so sweet and thoughtful that a business would be willing to acknowledge teachers of the year for their accomplishments.'"
The deciding process for who wins Teacher of the Year follows specific steps, Principal Joey McQueen said.
"Basically what happens is: teachers are nominated, and then they have to write an essay, then submit it to our upper administration, and they have a committee that chooses," McQueen said. "Our teachers select our nominees. Once they are selected, the teachers submit their essay to upper administration then it is decided if they get the overall teacher of the year."
There are a couple of limits for teachers driving the Jeep, such as no more than 3,000 miles can be put on the car and not allowing the teachers to leave Texas with it.
"One of the gentlemen at Benny Boyd said his parents were in the teacher profession, and they know how hard teachers work and they just wanted to give back to the community by allowing the teachers to have a month of driving," McQueen said.
Wells is thankful for the opportunity to drive the Jeep, and is thankful towards her fellow teachers who voted for her to win. 
"I felt super excited and I thought it was so sweet that my teachers and my administration thought that I was deserving of Teacher of the Year," Wells said.