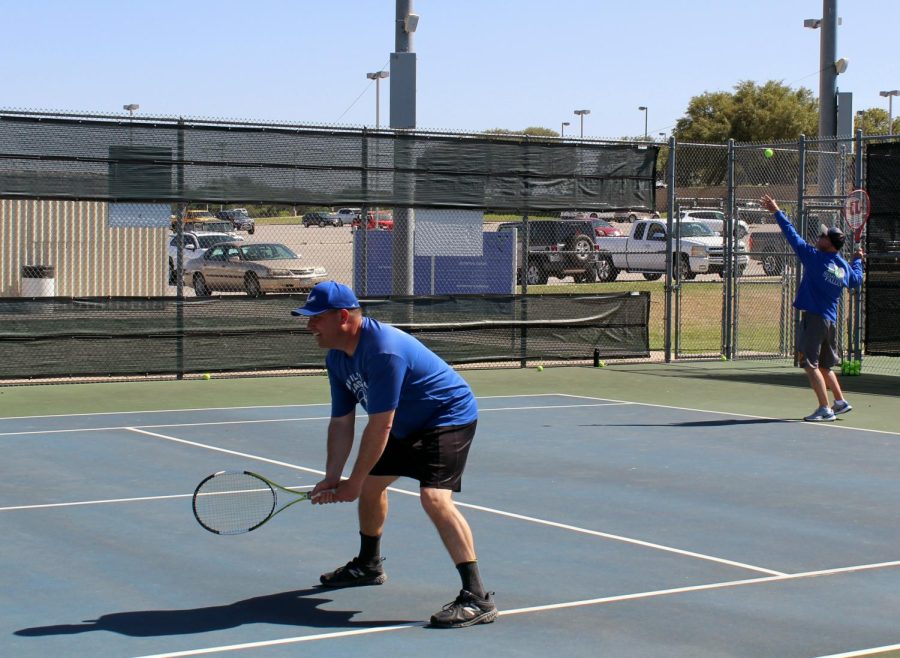 Lydia Breuer
School administrators who interact with students will leave a lasting impression on students even after they graduate high school.
Freshman Chesley Breuer and junior Madison Miles played a tennis game April 13 against Principal Joey McQueen and Assistant Principal Paul Weinheimer.
"Mr. McQueen was speaking with Chesley and [sophomore Charlotte Carmack] at first, and he said we could take them at tennis and they liked the idea," Weinheimer said. "I enjoy watching and playing tennis when possible and I thought it was a great idea."
Carmack was originally supposed to play, but due to a knee surgery, Miles played in her place.
"It was a fun bet that they had made against the principals," Miles said. 
Breuer said the bet was that the principals would get them something if they won, and the girls would get the principals drinks if they won. 
"Mr. McQueen wanted a Diet Coke, I think, and Mr. Weinheimer wanted half and half tea," Breuer said.
McQueen and Weinheimer both have previous tennis experience.
"I played tennis growing up with my dad and brothers," Weinheimer said. "I played a couple tournaments my junior year in high school."
McQueen played in high school and even coached tennis at some schools.
"I think the coolest part was seeing the principals play tennis," Miles said. "You usually just see your principals around school or at school related events. You never really see them outside of that image."
The principals won with a score of 8-4.
"Both had great serves, and were actually really good players!" Miles said.
All four players expressed good sportsmanship and they had a lot of fun.
"The best part about playing that day was competing against two of our awesome student-athletes," Weinheimer said.