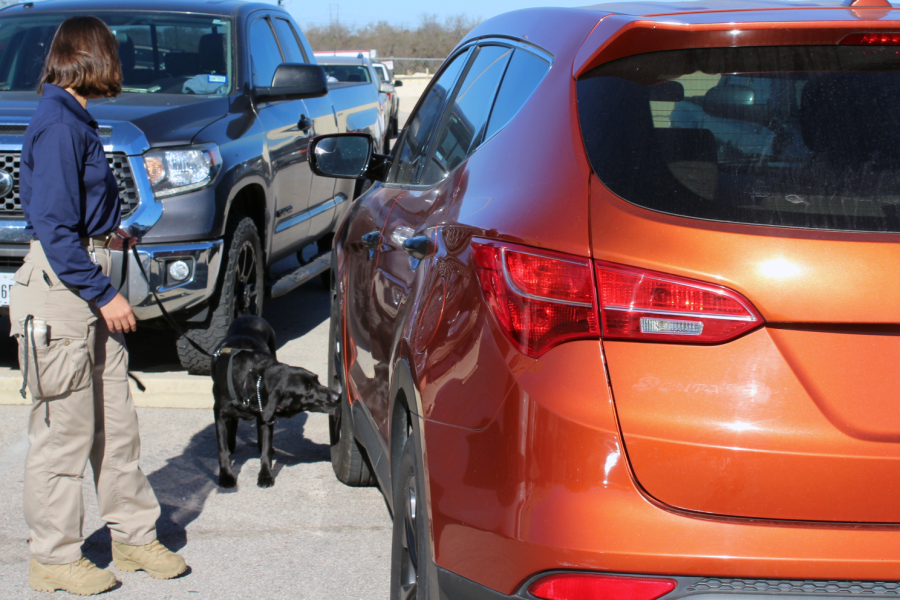 Lexi Moreland, Online Editor
Administration asked drug dogs to come in weekly for January. The decision became official after prior problems surfacing during the first semester of the 2021-2022 school year. 
"The drug dog is funded by the school through budget," prinicpal Joey McQueen said. "Dr. Rascoe was willing to spend more money this year."
To keep things comfortable and beneficial to the school, both the police department and administration decided to have the same volunteer and dog team come every time. 
"We hope this helps them both become more confident and comfortable," McQueen said. 
During the first semester of the school year there were multiple incidents of students caught with illegal substances. 
"We hope the students figure out we care about the school and we want them to as well," McQueen said. "Our goal is to prevent the dealing of drugs and having drugs on the campus in general." 
Administration wants the students to know that the weekly drug dog visits may continue into February in hopes that this will better the school and lower the probability of the presence of drugs in the learning environment. 
"We really want to ramp it up and get rid of the things we don't want at the school," McQueen said. "There are also consequences for the students' actions, and we have a policy for each offence." 
Each offense varies depending on the type of substance found on the student.
"Although I think having drug dogs come weekly is a little excessive for the school, if you bring drugs to school you deserve to be caught,¨ senior Lizzie Bennett said. ¨If you truly want that to be a part of your life, don't bring it to a place where the people around you are trying to educate themselves."