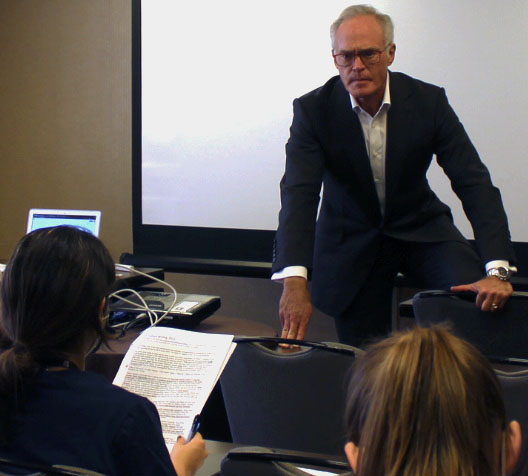 Lydia Breuer, Editor-In-Chief
The United States of America is a place built from the ideas of its people. The glamor of America is that it functions under a democracy dedicated to journalism and journalism's truth — a truth that does not appear as solid as it once did, but people such as 60 Minutes correspondent Scott Pelley pursue a truth that can put a scratch, or maybe even a dent, into a world that is forever changing.
Pelley has interviewed and written stories about people and events across the globe as a 60 Minutes correspondent since 1999. He has won many awards for his work since then.
"The first thing that you have to do as a journalist is understand what your biases are," Pelley said. "You have them, you just don't realize it. You have all these biases that don't seem like biases to you, because they're you. So, you have to sort of step outside of yourself and understand what those biases might be."
Pelley steps out of his comfort zone to get the story.
"In my life, the desire to be at the story, and at the biggest story I can cover, has always outweighed the sense of danger," Pelley said. "Have I been scared? Oh yeah, lots of times. Many, many, many times, but getting the story has always compelled me forward."
From interviewing people such as president Donald Trump and Nobel Peace Prize winner Nadia Murad to ordinary people that have a story to tell, Pelley asks questions that start a conversation. 
"You formulate questions with humility and respect," Pelley said. "You understand that they are much wiser than you are about whatever it is you're writing."
Pelley reminds himself and other journalists of the "fundamental function that journalism has in a democracy." This motivates him to continue telling different people's stories in an unbiased way. 
"A democracy cannot exist without journalism because you have to have that reliable down-the-middle kind of information that the country needs," he said. 
Pelley said he could not have accomplished anything if not for the help of photographers, producers, editors and the support of his family.
"I receive too much credit for the work of others," Pelley said. "Hundreds of people at CBS News have given me my career, but one person has given me my life: my lovely wife, Jane."
When younger, Pelley set out to change the world in a grand way. Now he realizes that it is the seemingly small things that make the difference. 
"I was going to change the world and that seemed later to me too big a notion," Pelley said. "So I thought I would put a scratch on it, and now I'm just endeavoring to make a dent."