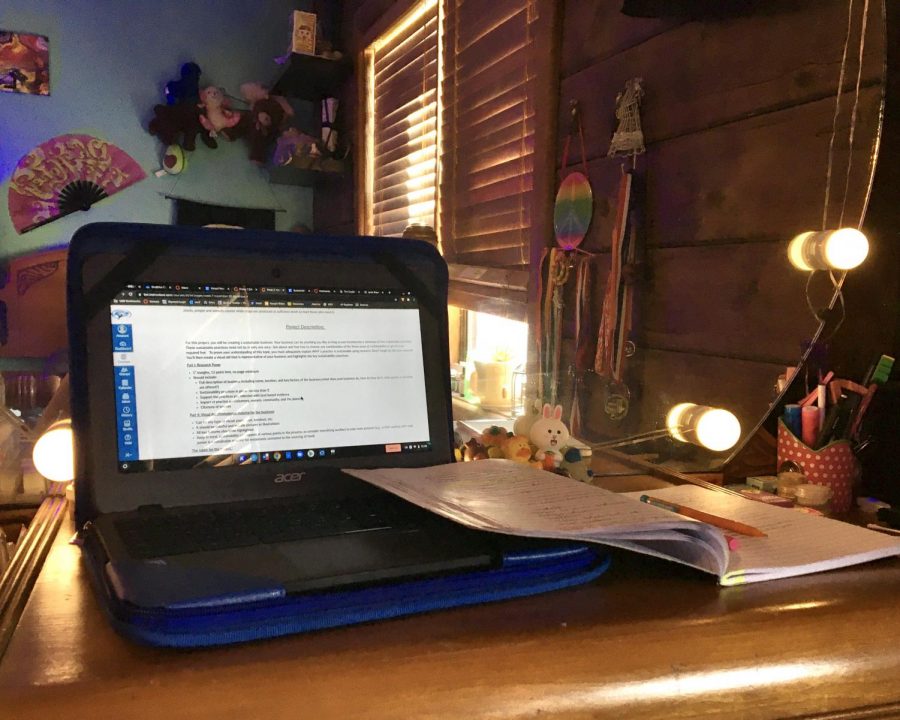 Lydia Breuer, Photo Editor
The high school went asynchronous instead of returning in-person the week after Thanksgiving Break, Nov. 30 – Dec.4,  due to the school's COVID-19 cases exceeding 21. The school will reopen for in-person learning Dec 7.
"Lampasas High School is under a local health authority order to temporarily close due to the virus being active, evidence of transmission on the campus, and the overall active case counts being above a 2% threshold that was established by the Region 7 Epidemiology Department at the start of the school year," superintendent Chane Rascoe said in an email to LISD recipients.
Rascoe said in the email that LISD does not have the authority to override the order of the local health authority when there is evidence that the virus is active and being spread on campus.
"Recently, the local health authority found evidence of the virus being spread on the high school campus and issued an order to close the campus and all activities," Rascoe said. "The district thus complied with that order. Thankfully, the high school campus has seen a decrease in the active case counts."
Although many teachers, like volleyball coach and math teacher Whitney Doyen, have prepared to go virtual, Doyen said it is still difficult not to have the opportunity to ask students questions face to face to make sure they understand the content.
"The challenges in teaching asynchronously are that I do not get the daily check-ins or informal assessments that I would in a normal class," she said. "I do not get to ask questions in the middle of the lesson to check for understanding so I do not get that one on one instruction with students I normally would."
While teaching virtually may make it more difficult to teach more in depth, teaching hasn't stopped completely.
"The positives of asynchronous learning is that even though we have been out of school our lessons have not stopped," Doyen said. "Students are still learning and getting the opportunity to further their education instead of completely stopping instruction."
History teacher Mark Guzak said his lessons were completely altered for the virtual week. 
"It hurts education," he said. "I tried to do a general overview of stuff I would have been much more specific about in class. I dislike the virtual learning and feel the kids pick up far less and become very complacent at home. I am still calculating how to get back on track with such limited time before the [winter] break."
Students' feelings about asynchronous learning depend upon each student. Some loathe it, some prefer it and some tolerate it.
"A lot of my classes revolve around them being able to lecture, so it feels weird missing that," junior Daniel Rounds said. "I could do it (go asynchronous) if I had to, but still, I prefer going in-person. I tend to not be as focused and put stuff off when not in class."
Junior Jayden Slagle said some classes, like dance, depend on being at school physically, and it can be harder to make a schedule for some students at home compared to the rigid schedule that schools have. 
"My dance electives are kind of tough because I have to submit videos of me actually up and doing things, but I don't have the space to do that at home," Slagle said. "I knew going into it that it was going to be rough, and it was. Since I don't have to be up at a certain time and everything is due around the same time at night, it's just easier to let it all pile up."