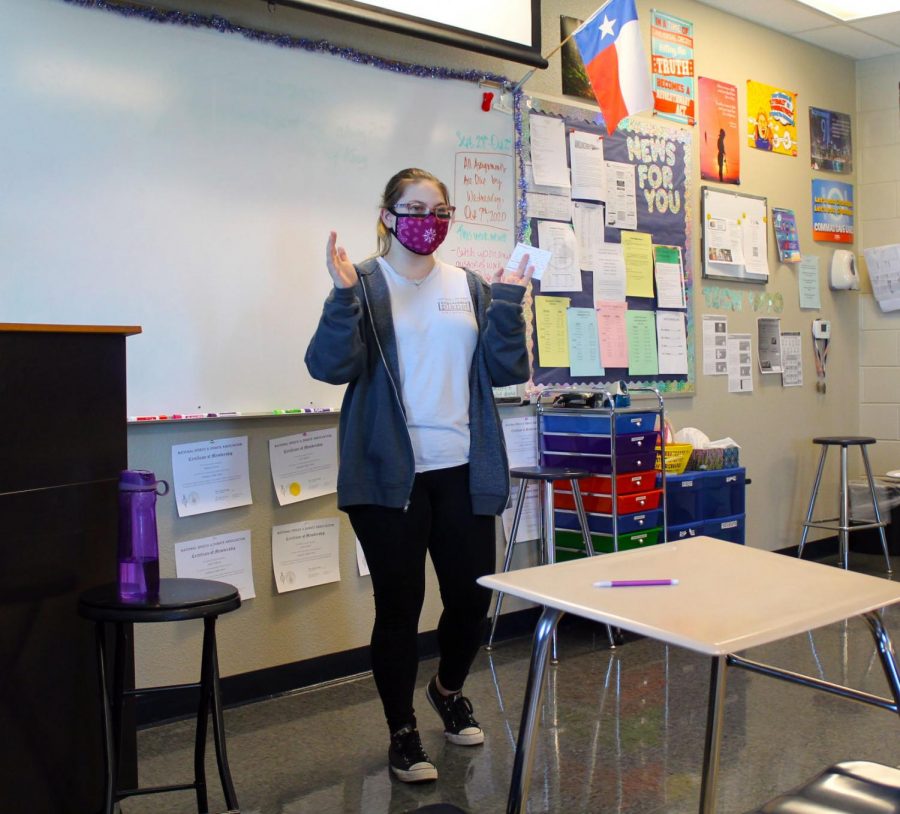 Lydia Breuer, Photo Editor
 Debate students Lulu Lopez, Cole Wheeler, Jacdon Green and Jodiah Holland will participate in Voice of Democracy,  an annual competition where students from across the nation write and record a speech for the top prize of a $30,000 scholarship. There are also prizes and scholarships at the post, district and state level.
Voice of Democracy has a yearly theme and this year's theme is "Is This the Country the Founders Envisioned?" 
"I had to write an essay, a pretty long one to fit the three to five minutes of length, and then we have to record ourselves doing it and put it on a CD and turn it in to Mrs. McGhee," sophomore Jodiah Holland said. 
Voice of Democracy is open for grades 9-12 by the deadline of Oct. 31, and is open to public, private, parochial or homeschooled students. 
"I'll come up with a good brainstorming idea because it's kind of broad, because we're talking about the Constitution, what the founding fathers actually envisioned, but it can be kind of confusing since it was so long ago," Holland said.
The biggest chunk of the competition is actually writing the essay. With such a broad topic, creativity and thought  must go into this competition to formulate a strong opinion.
"I mean, this is my third time I've done this," senior Cole Wheeler said. "I won't say it's difficult, but it's definitely interesting, like going back and formulating an opinion on the topic and then being able to defend it in a speech."
The students who compete in Voice of Democracy are involved in debate class taught by Judith Ann McGee. Wheeler has been in debate since his freshman year, so he has learned what it takes to write a good speech.
"I think it's important you have these topics to look at the history, look at historical context," Wheeler said. "You know, obviously in your speech you want to point to some of that research. You want to point to your opinions and you want to establish what you think really early on and then be able to defend that because you know you're not an effective speaker if you don't really have a point that you are trying to make."