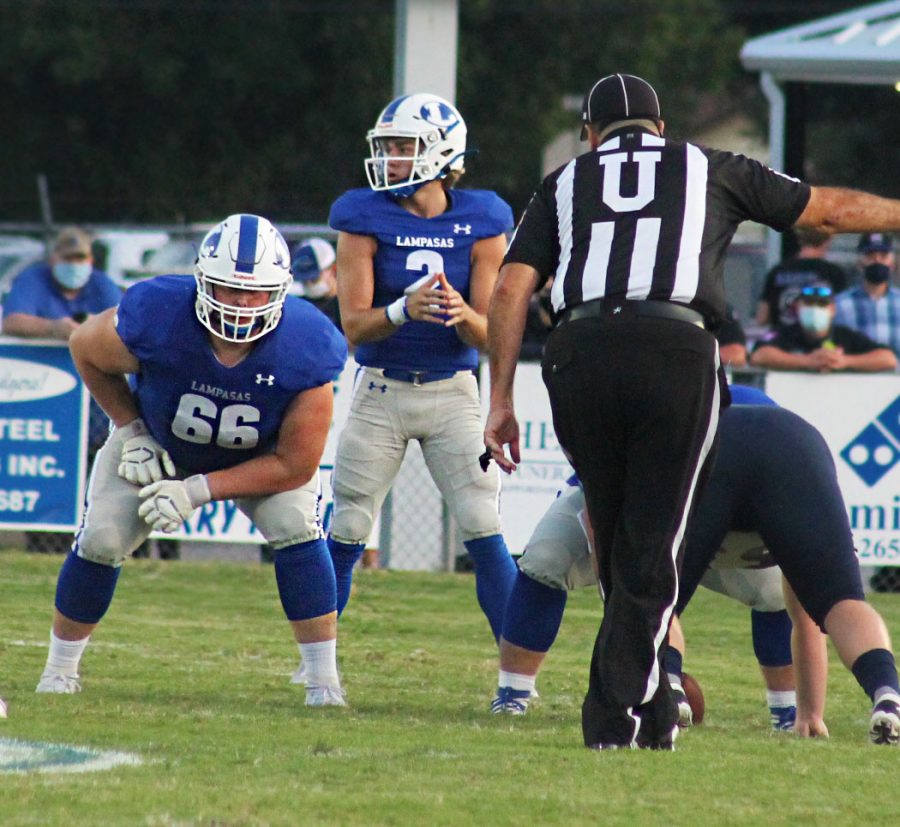 Brianna Miller, Reporter
The Badger football team continued their undefeated streak on Friday night defeating the Wimberley Texans at home by a score of 57-28. They face China Spring this Friday in China Springs. 
Lampasas and Wimberely were both undefeated going into the match-up. During the 2019 season, Lampasas made it to state semifinals and the Texans made it to the state championship game before losing.
On Friday night, the Badgers started out the gate hot behind quarterback Ace Whitehead. 
The Badgers scored twice early for a 14-0 lead after the first quarter of the game ended, and when they went to halftime they had a 36-14 lead against the Texans.
Whitehead had five touchdowns. Junior Case Brister accounted for 81 yards against Wimberley including a 40-yard touchdown run that gave Lampasas an early 20-0 lead in the second quarter.
Senior Peyton Underwood also accounted for a touchdown against the Texans Friday night.
In the second half, Badgers clipped the Texans dreams of beating the Badgers by extending their lead where the Texans could not score enough to catch up against the fiery offense. The final score was 57-28 and the Badgers remain undefeated this year. 
The atmosphere was not different even though less fans were allowed due to COVID-19. The stadium was still loud and cheering for their Badgers. 
¨They played great and I knew we would win," junior Isabella Bertand said. "It was a good game against the Texans. They played hard against us, but our boys did better."
The student section was moved to be at the end of the endzone with the band to help with social distancing, but that did not stop students from being loud. 
¨For as long as I can remember, the student section has always been right in the middle of the game," senior Addison McDonald said.  "We were right next to the players. This close interaction allows not only for louder volume, but it creates a more personal experience. The game is a lot more exciting and engaging when you're right in the middle of it, and I strongly feel like we were deprived of that.¨ 
However, the students still brought noisemakers and came to hype up the team. 
"We refuse to stop at adversity, but rather to make the best of the circumstances,¨ McDonald said.