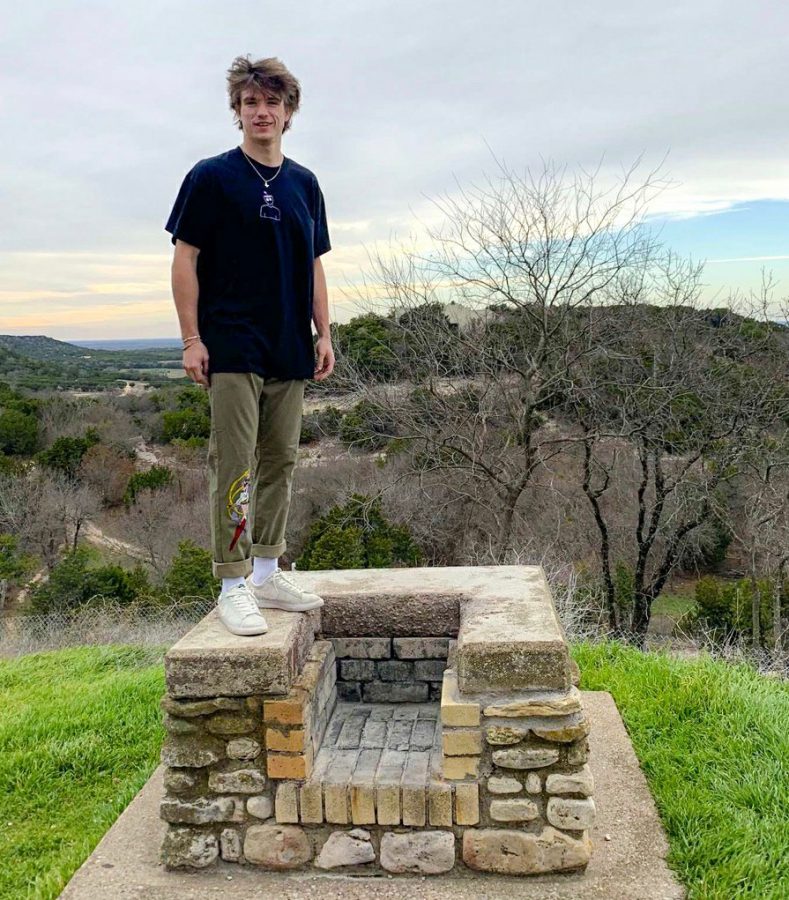 Courtesy of Clayton Bever
Amongst the chaos of his senior year, Clayton Bever found an outlet to express himself. 
Two months ago, Bever started his t-shirt brand, Lovely, to use as another way to create his art. He recently expanded the horizons of his small business by launching a website, creating an Instagram page and having a close friend join him. 
Growing up as the youngest of three, Bever always had a close bond with his brother, Nick. Bever purchased his equipment from his brother using his own money. Nick had the equipment because he too has a t-shirt brand. 
"Nick and I have always been close," Bever said. "I started to get into the art and fashion culture sophomore year, mainly because of him. I didn't like showing people anything I made, and he helped me with overcoming that. I'd say he is my best friend. Who knows, maybe we'll work together one day."
His business first started as a way to show a different side of himself. Now it helps keep him occupied during these  unknown times.
"I think it's awesome seeing purpose in my art," Bever said. "I now am creating more than ever since we're all stuck at home. It's a relaxing way to express myself and I find peace in it with everything going on in the world right now."
Though working alone worked for a little bit, Bever asked his friend Micah Ribera to join him. Ribera is also a senior but resides in Dripping Springs. 
"I started off solo, but as I went along I had my friend Micah join," Bever said. "We plan to run our business out of our dorm next year at UNT."
The two boys bring different views and ideas to the table. Together, they have the drive to create and share their art. 
"I am mainly excited about seeing other people wear what Clay and I design," Ribera said. "There are endless possibilities of what we can create together. I'm really excited to see how far we can go and what the future holds for Lovely."
With the business growing, Bever has 12 unique designs to choose from. Names of styles range from "Problem Child" to "Love." 
"Of course I like all the designs, but my favorite would have to be 'Papino," Ribera said. "It's my favorite because of how unique it is to all the others."
Bever recently launched his first pair of hand-painted pants and logo crewneck.
"When naming the shirts, I just pick whatever comes to my brain first," Bever said. "I don't want to over complicate the name or make it too long. I just take a look at it and write down the ideas that come to my head."
Bever first started creating art the traditional way- painting and drawing. That later led him to online graphic design, where he now creates his shirt designs. 
"All of my designs start off as sketches," Bever said. "I start off watching a show I like and then from there my imagination runs wild. From my sketches, I then pick what I like best and experiment with graphic design. I pick what color designs and shirts will go best together."
Bever not only sells his own designs but can also produce special orders if needed.
"The shirt is amazing," senior Jaylon Porter said. "I bought the 'SK8orDIE' shirt and I really like it. It's really good quality and I plan on buying more in the future. Clay can make just about anything you want."
For Bever, it's not about the recognition, it's about the creativity. Peer responses don't affect his personal views on his art.
"As long as I like what I'm making, people don't even have to buy it," Bever said. "It's my art, and people will take it however they please. They can either love it or hate it, but I will always love it."