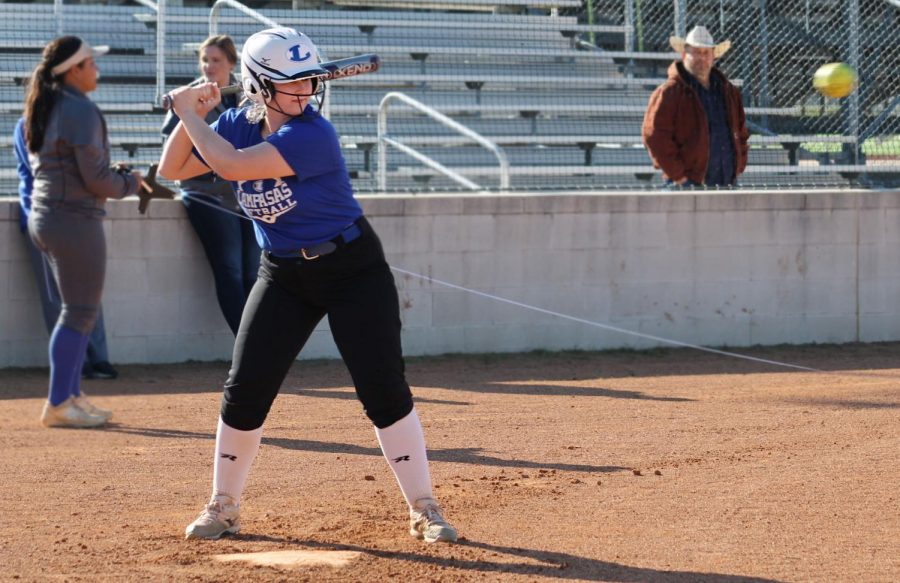 Chris Ybarra, Editor-In-Chief
The softball season has begun, with the softball program being led by new head coach and chemistry teacher Jessica Harborth . The softball team has already played two scrimmages so far, with the varsity team playing tomorrow in Llano at the Varsity Llano Tri-Scrimmage from 9:00 a.m. to 10:10 p.m.
"This is my first year here at Lampasas," Harborth said "I have been a head coach for four years at Temple High School and I was an assistant for two years before that at Temple High School for softball. It's been good here (Lampasas). It's an awesome school district. I've really enjoyed it and I've enjoyed the kids."
The beginning of the season also is the beginning of a new softball period for the school as Harborth works with the team and gets to know the girls she will be coaching.
"I'm excited [for the season]," Harborth said. "We've got a couple scrimmages under our belt. We're seeing that we've got a lot of kids that can successfully pitch the ball across the plate for strikes,which is exciting. I've never had a program that has had this many successful pitchers, so it's exciting to see. The kids are getting great at bats, they're getting great chances to be successful. I'm excited after the first couple of scrimmages. The kids are really getting their feet wet and it's fun to see."
Harborth said she is preaching attitude and effort this year.
"We're working really hard on learning to stay positive in tough situations, and always giving our best," she said. "When we get into district, our first and foremost goal is we're going to work that playoff spot and we're going to work game by game. I preach game by game to each kid, so we're going to look at that, but obviously our goals will change as we work further into the season, but right now we're focusing on attitude and effort."
Although the season has already begun, the first official game for the softball team will be Feb. 18 against Rogers. Additionally, this will be the last season that the team will be playing in the same district due to the UIL realignment.
"We've got a really well rounded group,' Harborth said. "We've got senior leadership in Hannah Greenberg, so she's played for a while and is a returning letterman. We've got junior leadership in Shelby Case and Rose McAnally. We've got a couple of sophomore returners, Kharis and Mia, but we've got a good group of freshmen that are coming in as well that are really exciting to watch."
This season is not only the start for many freshmen girls, but also for lone senior Hannah Greenberg, who will help to lead the team as she plays through her 2020 senior campaign.
"I am overly excited for this softball season," Greenberg said. "We have an awesome new coach this year and tons of new girls to play with! Coach Harborth is an amazing leader and person. Without her motivation I wouldn't be where I am now. My expectation for this year is for me and my team to play our hearts out no matter the situation. Although it's my last season ever playing as a Lady Badger again, with all the memories made and family friends I have bonded with, I wouldn't change where I am now for the world."