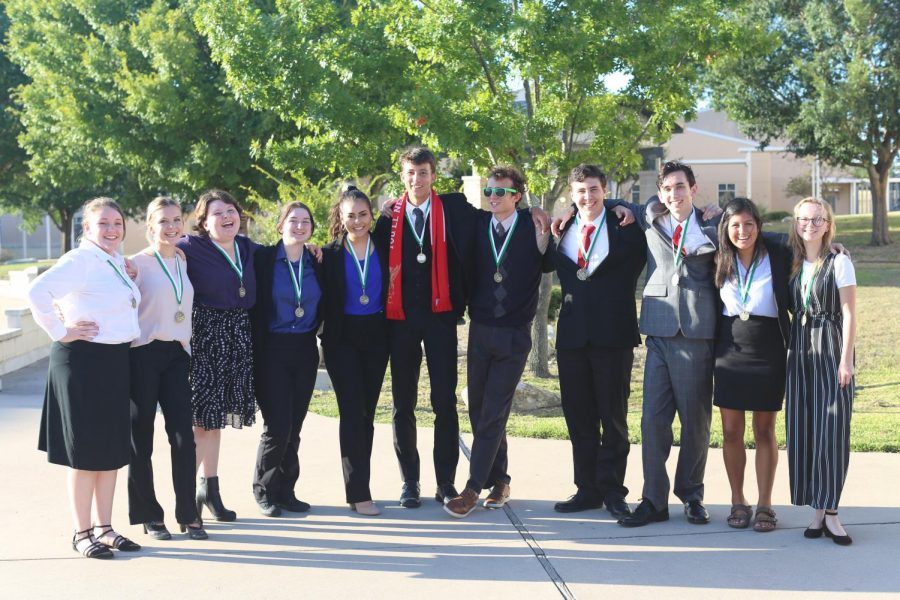 Lydia Bruerer
The Tournament That Teaches (TTT) was held at Burnet Saturday. It teaches novices about speech and debate thoroughly before each of the two rounds. It is a no-pressure competition and helps students interested in speech and debate to find what they enjoy.
"I have never taken more than three or four novices to a tournament and this year we had 19 students signed up to go," Speech and Debate Coach Judith Ann McGhee said.
TTT isn't only for novices. Varsity competitors come as well to assist the novices and can compete themselves, but it mainly focuses on helping the novices.
"This tournament has a whole section for novices where they can go to lectures before they even start debating, so they get in a lot of practice," varsity member Janice Hanson said.
Sophomore Kayla McManus feels she did well for her first tournament, and wants to attend future tournaments.
"It went really well," McManus said. "I feel like my second round was better than my first, mainly because after I was able to get critiqued by the first judge. She actually talked to us about what we needed to improve, so that my second round I was really about to focus on what I needed to do better."
Some are mostly excited for the chance to perform, even if they don't expect to become an avid speech and debate member, such as junior Maria Pickard.
"I am excited for the possibility to perform poetry in front of a crowd and possibly place," Pickard said. "I like interpretation, specifically poetry. I write slam poems, and I like to listen to them. It just gets me a chance to perform."
Some did place, such as freshman Callie Bekker in novice prose interpretation for first place overall, and Lydia Breuer in novice LD for second place overall.
"I feel awesome," Bekker said. "I love prose a lot and I got first."
McGhee is proud of each and every novice and varsity member that attended the TTT whether they placed or not.
"I hope everyone finds something that they love but I will be happy with whatever they want to do," McGhee said. "I just want them to get a taste of what a speech and debate tournament is like and if they love it, then I will support them as long as they want to compete."
Callie Becker – 1st Novice Prose
Lydia Bruer – 2n Novice LD Debate
Cole Wheeler and Jacdon Green – 2nd Varsity CX Debate
Kayla McManus – 3rd Novice Prose
Isabel Ybarra – 3rd Novice Prose
Ethan Butler-Schaub – 4th Varsity LD Debate
Maria Pickard – 5th Novice Poetry
Shiann Burkett – 6th Novice Poetry
David Neary – 6th Varsity LD Debate
Janice Hanson and Kaitie McLendon – 6th Varsity CX Debate